<![CDATA[ var dwellicious_data = { "address": "737 2nd St #201", "city": "OAKLAND", "state": "CA", "zip": "94607", "zip4": "", "area": "", "subdivision": "", "county": "", "price": "929000", "beds": "1", "baths": "1", "sqft": "1468", "lotsize": "0", "yearbuilt": "1920-01-01", "proptype": "Residential", "mlsnum": "40911904", "active": true, "remarks": "Exceptional loft remodel offers 1,468 sq. ft.* of style and sophistication. With a gorgeous chef's kitchen, designer fixtures, walk-in closet, in-unit laundry room and additional bonus space**, this live/work loft is perfect for an owner who wants to move right in and start living! Schedule a private tour of this historic building! Located on the waterfront, Jack London Square, an urban oasis, boasts more than 30 restaurants, an array of national and local retailers, cinemas, a jazz club, lively weekend farmers' and artisans' markets, and plenty of options for a picturesque stroll. Easy access to public transportation, including ferries, BART and Amtrak, make it extra appealing and a time-saver for commuters. WWW.PHOENIXLOFT201.COM", "photos": [ { "displayorder": 0, "url": "//cdnparap30.paragonrels.com/ParagonImages/Property/P3/MAXEBRDI/40911904/0/0/0/530849ad6f5f12f38a32602d316a634d/96/5ecede7e26669f0b4e9b1fd3bb2e133e/40911904.JPG", "caption": "" }, "displayorder": 1, "url": "//cdnparap30.paragonrels.com/ParagonImages/Property/P3/MAXEBRDI/40911904/1/0/0/aa410295e4a2e1b11b27ecf1b479422c/96/5ecede7e26669f0b4e9b1fd3bb2e133e/40911904-1.JPG", "caption": "" }, "displayorder": 2, "url": "//cdnparap30.paragonrels.com/ParagonImages/Property/P3/MAXEBRDI/40911904/2/0/0/1a89f4f0cb9c9d1c03f9ae5ef771279d/96/5ecede7e26669f0b4e9b1fd3bb2e133e/40911904-2.JPG", "caption": "" }, "displayorder": 3, "url": "//cdnparap30.paragonrels.com/ParagonImages/Property/P3/MAXEBRDI/40911904/3/0/0/0793a14dc5e14bc3aba09924f9105a15/96/5ecede7e26669f0b4e9b1fd3bb2e133e/40911904-3.JPG", "caption": "" }, "displayorder": 4, "url": "//cdnparap30.paragonrels.com/ParagonImages/Property/P3/MAXEBRDI/40911904/4/0/0/d7fe20d5b5c655a2d7027e07a0ce206a/96/5ecede7e26669f0b4e9b1fd3bb2e133e/40911904-4.JPG", "caption": "" }, "displayorder": 5, "url": "//cdnparap30.paragonrels.com/ParagonImages/Property/P3/MAXEBRDI/40911904/5/0/0/ddb62a77e733bff5bf33f169f894c503/96/5ecede7e26669f0b4e9b1fd3bb2e133e/40911904-5.JPG", "caption": "" }, "displayorder": 6, "url": "//cdnparap30.paragonrels.com/ParagonImages/Property/P3/MAXEBRDI/40911904/6/0/0/56391e6bf424378039f780c3bb9d8d04/96/5ecede7e26669f0b4e9b1fd3bb2e133e/40911904-6.JPG", "caption": "" }, "displayorder": 7, "url": "//cdnparap30.paragonrels.com/ParagonImages/Property/P3/MAXEBRDI/40911904/7/0/0/cd29d2f3ed6b89f576c62228cb703268/96/5ecede7e26669f0b4e9b1fd3bb2e133e/40911904-7.JPG", "caption": "" }, "displayorder": 8, "url": "//cdnparap30.paragonrels.com/ParagonImages/Property/P3/MAXEBRDI/40911904/8/0/0/b4d52fb5ae4a7a94ab0cb3ea51c880fb/96/5ecede7e26669f0b4e9b1fd3bb2e133e/40911904-8.JPG", "caption": "" }, "displayorder": 9, "url": "//cdnparap30.paragonrels.com/ParagonImages/Property/P3/MAXEBRDI/40911904/9/0/0/2e31e8233e481960cf1a296e5159e1e0/96/5ecede7e26669f0b4e9b1fd3bb2e133e/40911904-9.JPG", "caption": "" }, "displayorder": 10, "url": "//cdnparap30.paragonrels.com/ParagonImages/Property/P3/MAXEBRDI/40911904/10/0/0/7273d9ef63b3c18911f26eca83b81509/96/5ecede7e26669f0b4e9b1fd3bb2e133e/40911904-10.JPG", "caption": "" }, "displayorder": 11, "url": "//cdnparap30.paragonrels.com/ParagonImages/Property/P3/MAXEBRDI/40911904/11/0/0/4651bc1077ce8e2db64fd4504899d70e/96/5ecede7e26669f0b4e9b1fd3bb2e133e/40911904-11.JPG", "caption": "" }, "displayorder": 12, "url": "//cdnparap30.paragonrels.com/ParagonImages/Property/P3/MAXEBRDI/40911904/12/0/0/db79a10ff394cb0e490ea710cb8c458c/96/5ecede7e26669f0b4e9b1fd3bb2e133e/40911904-12.JPG", "caption": "" }, "displayorder": 13, "url": "//cdnparap30.paragonrels.com/ParagonImages/Property/P3/MAXEBRDI/40911904/13/0/0/f32cb68377c263a5baefa8792d97e376/96/5ecede7e26669f0b4e9b1fd3bb2e133e/40911904-13.JPG", "caption": "" }, "displayorder": 14, "url": "//cdnparap30.paragonrels.com/ParagonImages/Property/P3/MAXEBRDI/40911904/14/0/0/315032232487b7489d7312cc1ac88981/96/5ecede7e26669f0b4e9b1fd3bb2e133e/40911904-14.JPG", "caption": "" }, "displayorder": 15, "url": "//cdnparap30.paragonrels.com/ParagonImages/Property/P3/MAXEBRDI/40911904/15/0/0/c3af1508420d054290eca9b5c8d135fe/96/5ecede7e26669f0b4e9b1fd3bb2e133e/40911904-15.JPG", "caption": "" }, "displayorder": 16, "url": "//cdnparap30.paragonrels.com/ParagonImages/Property/P3/MAXEBRDI/40911904/16/0/0/a89118a74270b3516634b51f8cc94243/96/5ecede7e26669f0b4e9b1fd3bb2e133e/40911904-16.JPG", "caption": "" }, "displayorder": 17, "url": "//cdnparap30.paragonrels.com/ParagonImages/Property/P3/MAXEBRDI/40911904/17/0/0/cdd429b4e1f339d599c514504f86a747/96/5ecede7e26669f0b4e9b1fd3bb2e133e/40911904-17.JPG", "caption": "" }, "displayorder": 18, "url": "//cdnparap30.paragonrels.com/ParagonImages/Property/P3/MAXEBRDI/40911904/18/0/0/4222a158b7ceeae7ee1034bf04060e86/96/5ecede7e26669f0b4e9b1fd3bb2e133e/40911904-18.JPG", "caption": "" }, "displayorder": 19, "url": "//cdnparap30.paragonrels.com/ParagonImages/Property/P3/MAXEBRDI/40911904/19/0/0/303c046bd4ba11dd9ecb919e97d921d9/96/5ecede7e26669f0b4e9b1fd3bb2e133e/40911904-19.JPG", "caption": "" }, "displayorder": 20, "url": "//cdnparap30.paragonrels.com/ParagonImages/Property/P3/MAXEBRDI/40911904/20/0/0/f4ec7e8d28a54725be9f395545c8b876/96/5ecede7e26669f0b4e9b1fd3bb2e133e/40911904-20.JPG", "caption": "" }, "displayorder": 21, "url": "//cdnparap30.paragonrels.com/ParagonImages/Property/P3/MAXEBRDI/40911904/21/0/0/fb4f29f12da2d9c615025cd2dc7e4954/96/5ecede7e26669f0b4e9b1fd3bb2e133e/40911904-21.JPG", "caption": "" }, "displayorder": 22, "url": "//cdnparap30.paragonrels.com/ParagonImages/Property/P3/MAXEBRDI/40911904/22/0/0/db2f54683d584619d4c6217bfc74b017/96/5ecede7e26669f0b4e9b1fd3bb2e133e/40911904-22.JPG", "caption": "" } ], "agent": { "name": "CHIMENE POLLARD", "phone": "510-846-3601", "email": "Chimene@Team510.com" }, "broker": { "name": "RED OAK REALTY", "phone": "", "email": "" } }; ]]>
737 2nd St #201
OAKLAND, CA 94607

Click here for map
Unknown
$929,000
1,468 Sq Feet
1 Bedroom
1 Bathroom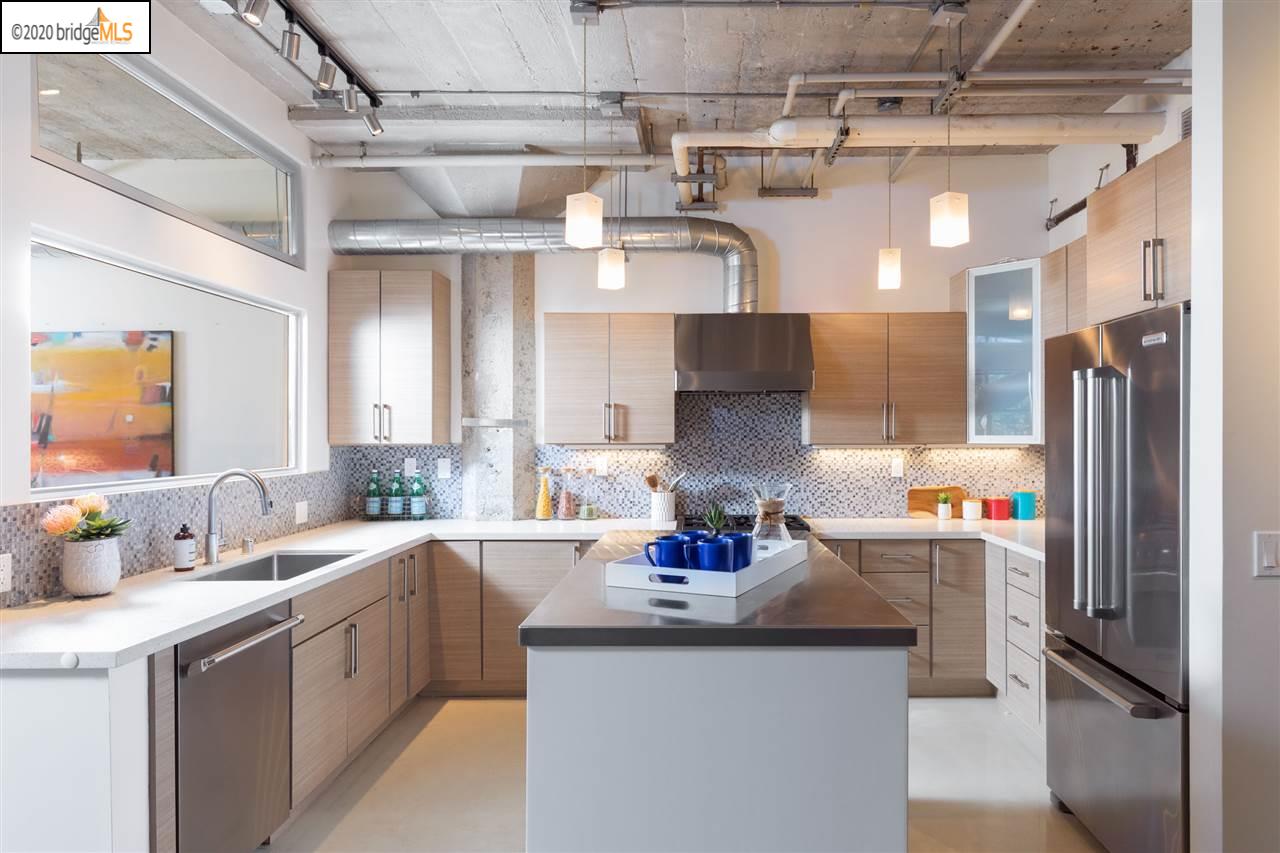 Details:
Lot Sq Feet:
0
Fireplaces:
0
HOA?
Yes
Bank Owned?
No
Status:
Active
Remarks:
Exceptional loft remodel offers 1,468 sq. ft.* of style and sophistication. With a gorgeous chef's kitchen, designer fixtures, walk-in closet, in-unit laundry room and additional bonus space**, this live/work loft is perfect for an owner who wants to move right in and start living! Schedule a private tour of this historic building! Located on the waterfront, Jack London Square, an urban oasis, boasts more than 30 restaurants, an array of national and local retailers, cinemas, a jazz club, lively weekend farmers' and artisans' markets, and plenty of options for a picturesque stroll. Easy access to public transportation, including ferries, BART and Amtrak, make it extra appealing and a time-saver for commuters. WWW.PHOENIXLOFT201.COM
There are currently no open houses for this property. Please contact
CHIMENE POLLARD
to schedule an appointment.