<![CDATA[ var dwellicious_data = { "address": "1007 41St St #212", "city": "EMERYVILLE", "state": "CA", "zip": "94608", "zip4": "", "area": "", "subdivision": "", "county": "", "price": "429000", "beds": "1", "baths": "1", "sqft": "668", "lotsize": "0", "yearbuilt": "2005-01-01", "proptype": "Residential", "mlsnum": "40911866", "active": false, "remarks": "92 WalkScore®! Modern updated 1 bedroom available at the Green City Lofts. Spacious open floor plan with large living/dining room with floor to ceiling windows. Sweet updated kitchen features granite countertops and stainless steel appliances. Unit has it's own small patio with a private entrance as well as it faces a beautiful common area. Deeded parking spot plus guest parking but if you live here you don't need a car! Building has super high-speed internet, EV charger, and radiant heat. All utilities except PGE included! Rentals, pets allowed. Great location in Emeryville near restaurants, shopping, and amenities in Temescal, Downtown Oakland, SF, Berkeley. Only 1 mile to MacArthur BART and 7.5 miles to Downtown SF!", "photos": [ { "displayorder": 0, "url": "//cdnparap30.paragonrels.com/ParagonImages/Property/P3/MAXEBRDI/40911866/0/0/0/a72bc9196543266d7e6c1c004db2b786/96/048d60b165d7e559aa6ec76d5388e2b8/40911866.JPG", "caption": "" }, "displayorder": 1, "url": "//cdnparap30.paragonrels.com/ParagonImages/Property/P3/MAXEBRDI/40911866/1/0/0/eed4f9e8bc141966d520e80bbd2c14b0/96/048d60b165d7e559aa6ec76d5388e2b8/40911866-1.JPG", "caption": "" }, "displayorder": 2, "url": "//cdnparap30.paragonrels.com/ParagonImages/Property/P3/MAXEBRDI/40911866/2/0/0/701741b3579266db6842f2a451e8c68c/96/048d60b165d7e559aa6ec76d5388e2b8/40911866-2.JPG", "caption": "" }, "displayorder": 3, "url": "//cdnparap30.paragonrels.com/ParagonImages/Property/P3/MAXEBRDI/40911866/3/0/0/a9b3d463ebaa20de5148c8b236830e05/96/048d60b165d7e559aa6ec76d5388e2b8/40911866-3.JPG", "caption": "" }, "displayorder": 4, "url": "//cdnparap30.paragonrels.com/ParagonImages/Property/P3/MAXEBRDI/40911866/4/0/0/b3472fc124767dc7c8e153e0f2c9e4f4/96/048d60b165d7e559aa6ec76d5388e2b8/40911866-4.JPG", "caption": "" }, "displayorder": 5, "url": "//cdnparap30.paragonrels.com/ParagonImages/Property/P3/MAXEBRDI/40911866/5/0/0/786e509171c1d0fa95f4c1c37c80a661/96/048d60b165d7e559aa6ec76d5388e2b8/40911866-5.JPG", "caption": "" }, "displayorder": 6, "url": "//cdnparap30.paragonrels.com/ParagonImages/Property/P3/MAXEBRDI/40911866/6/0/0/93b59f2810fb2bc80148ce7d658ac03b/96/048d60b165d7e559aa6ec76d5388e2b8/40911866-6.JPG", "caption": "" }, "displayorder": 7, "url": "//cdnparap30.paragonrels.com/ParagonImages/Property/P3/MAXEBRDI/40911866/7/0/0/1031c5a34be52db871a1b4b04c2f64fe/96/048d60b165d7e559aa6ec76d5388e2b8/40911866-7.JPG", "caption": "" }, "displayorder": 8, "url": "//cdnparap30.paragonrels.com/ParagonImages/Property/P3/MAXEBRDI/40911866/8/0/0/2eed2d1557b5f1a3e38c89df25b9ccd6/96/048d60b165d7e559aa6ec76d5388e2b8/40911866-8.JPG", "caption": "" }, "displayorder": 9, "url": "//cdnparap30.paragonrels.com/ParagonImages/Property/P3/MAXEBRDI/40911866/9/0/0/77ed885e6bd90a8ecbbe1749f86ecf49/96/048d60b165d7e559aa6ec76d5388e2b8/40911866-9.JPG", "caption": "" }, "displayorder": 10, "url": "//cdnparap30.paragonrels.com/ParagonImages/Property/P3/MAXEBRDI/40911866/10/0/0/accecb91228382a62e81a196af783ff5/96/048d60b165d7e559aa6ec76d5388e2b8/40911866-10.JPG", "caption": "" }, "displayorder": 11, "url": "//cdnparap30.paragonrels.com/ParagonImages/Property/P3/MAXEBRDI/40911866/11/0/0/b70ae1abb0a845e22632d31103d7672c/96/048d60b165d7e559aa6ec76d5388e2b8/40911866-11.JPG", "caption": "" }, "displayorder": 12, "url": "//cdnparap30.paragonrels.com/ParagonImages/Property/P3/MAXEBRDI/40911866/12/0/0/dc50e377cf2c634010b090e03dc79d3b/96/048d60b165d7e559aa6ec76d5388e2b8/40911866-12.JPG", "caption": "" }, "displayorder": 13, "url": "//cdnparap30.paragonrels.com/ParagonImages/Property/P3/MAXEBRDI/40911866/13/0/0/348b11d5afabf11f7441139525472d21/96/048d60b165d7e559aa6ec76d5388e2b8/40911866-13.JPG", "caption": "" }, "displayorder": 14, "url": "//cdnparap30.paragonrels.com/ParagonImages/Property/P3/MAXEBRDI/40911866/14/0/0/973d88c000b112f065c160125bfb33a6/96/048d60b165d7e559aa6ec76d5388e2b8/40911866-14.JPG", "caption": "" }, "displayorder": 15, "url": "//cdnparap30.paragonrels.com/ParagonImages/Property/P3/MAXEBRDI/40911866/15/0/0/d0d727c8c38d0bab8b26269e3dbfc3f5/96/048d60b165d7e559aa6ec76d5388e2b8/40911866-15.JPG", "caption": "" }, "displayorder": 16, "url": "//cdnparap30.paragonrels.com/ParagonImages/Property/P3/MAXEBRDI/40911866/16/0/0/6e6efd557ace71b18af293ec3af477f9/96/048d60b165d7e559aa6ec76d5388e2b8/40911866-16.JPG", "caption": "" }, "displayorder": 17, "url": "//cdnparap30.paragonrels.com/ParagonImages/Property/P3/MAXEBRDI/40911866/17/0/0/5029ba6ff52e0eff22cd84c8d3243c0e/96/048d60b165d7e559aa6ec76d5388e2b8/40911866-17.JPG", "caption": "" }, "displayorder": 18, "url": "//cdnparap30.paragonrels.com/ParagonImages/Property/P3/MAXEBRDI/40911866/18/0/0/dc88f3c79fc933317f7623746c0e4be2/96/048d60b165d7e559aa6ec76d5388e2b8/40911866-18.JPG", "caption": "" }, "displayorder": 19, "url": "//cdnparap30.paragonrels.com/ParagonImages/Property/P3/MAXEBRDI/40911866/19/0/0/3fc0e0bea833238544c2b47ae1de6a03/96/048d60b165d7e559aa6ec76d5388e2b8/40911866-19.JPG", "caption": "" }, "displayorder": 20, "url": "//cdnparap30.paragonrels.com/ParagonImages/Property/P3/MAXEBRDI/40911866/20/0/0/1c464421769aa7ec686fa6caa93d665b/96/048d60b165d7e559aa6ec76d5388e2b8/40911866-20.JPG", "caption": "" }, "displayorder": 21, "url": "//cdnparap30.paragonrels.com/ParagonImages/Property/P3/MAXEBRDI/40911866/21/0/0/ea1c3df95b17dcb272a1b58d016e2399/96/048d60b165d7e559aa6ec76d5388e2b8/40911866-21.JPG", "caption": "" }, "displayorder": 22, "url": "//cdnparap30.paragonrels.com/ParagonImages/Property/P3/MAXEBRDI/40911866/22/0/0/5d36fd2f7940e950dc0e5a0ff46a6b80/96/048d60b165d7e559aa6ec76d5388e2b8/40911866-22.JPG", "caption": "" }, "displayorder": 23, "url": "//cdnparap30.paragonrels.com/ParagonImages/Property/P3/MAXEBRDI/40911866/23/0/0/dfecf3aa600fcb5a10861723fa3c0169/96/048d60b165d7e559aa6ec76d5388e2b8/40911866-23.JPG", "caption": "" }, "displayorder": 24, "url": "//cdnparap30.paragonrels.com/ParagonImages/Property/P3/MAXEBRDI/40911866/24/0/0/696e4e723b2ddd8baac10e8f5b0eaaf4/96/048d60b165d7e559aa6ec76d5388e2b8/40911866-24.JPG", "caption": "" }, "displayorder": 25, "url": "//cdnparap30.paragonrels.com/ParagonImages/Property/P3/MAXEBRDI/40911866/25/0/0/4d404df30fa033b24a4aa4d8a94c2d79/96/048d60b165d7e559aa6ec76d5388e2b8/40911866-25.JPG", "caption": "" }, "displayorder": 26, "url": "//cdnparap30.paragonrels.com/ParagonImages/Property/P3/MAXEBRDI/40911866/26/0/0/59660cc9b255ee4e8dcf4374bbf66f24/96/048d60b165d7e559aa6ec76d5388e2b8/40911866-26.JPG", "caption": "" }, "displayorder": 27, "url": "//cdnparap30.paragonrels.com/ParagonImages/Property/P3/MAXEBRDI/40911866/27/0/0/3ddc34f63fea718005833dd9d3d60f54/96/048d60b165d7e559aa6ec76d5388e2b8/40911866-27.JPG", "caption": "" }, "displayorder": 28, "url": "//cdnparap30.paragonrels.com/ParagonImages/Property/P3/MAXEBRDI/40911866/28/0/0/bcfb7bada870aa4b69e2cb81f8003211/96/048d60b165d7e559aa6ec76d5388e2b8/40911866-28.JPG", "caption": "" }, "displayorder": 29, "url": "//cdnparap30.paragonrels.com/ParagonImages/Property/P3/MAXEBRDI/40911866/29/0/0/e57e4fd5f4ff019b2dffb941c3a6054c/96/048d60b165d7e559aa6ec76d5388e2b8/40911866-29.JPG", "caption": "" }, "displayorder": 30, "url": "//cdnparap30.paragonrels.com/ParagonImages/Property/P3/MAXEBRDI/40911866/30/0/0/71ce28837f50392efd4933334946edf3/96/048d60b165d7e559aa6ec76d5388e2b8/40911866-30.JPG", "caption": "" }, "displayorder": 31, "url": "//cdnparap30.paragonrels.com/ParagonImages/Property/P3/MAXEBRDI/40911866/31/0/0/51847695310dda314e5d7658f4bd499e/96/048d60b165d7e559aa6ec76d5388e2b8/40911866-31.JPG", "caption": "" }, "displayorder": 32, "url": "//cdnparap30.paragonrels.com/ParagonImages/Property/P3/MAXEBRDI/40911866/32/0/0/6a1056713787ec24f7a2114033be7386/96/048d60b165d7e559aa6ec76d5388e2b8/40911866-32.JPG", "caption": "" }, "displayorder": 33, "url": "//cdnparap30.paragonrels.com/ParagonImages/Property/P3/MAXEBRDI/40911866/33/0/0/921f40fc4cf5a8a7facca43aa78ea661/96/048d60b165d7e559aa6ec76d5388e2b8/40911866-33.JPG", "caption": "" }, "displayorder": 34, "url": "//cdnparap30.paragonrels.com/ParagonImages/Property/P3/MAXEBRDI/40911866/34/0/0/9c8b5c68e71ed29d650b7495a9d362e1/96/048d60b165d7e559aa6ec76d5388e2b8/40911866-34.JPG", "caption": "" }, "displayorder": 35, "url": "//cdnparap30.paragonrels.com/ParagonImages/Property/P3/MAXEBRDI/40911866/35/0/0/1165a1c8b9ad32d237721a97a3abb147/96/048d60b165d7e559aa6ec76d5388e2b8/40911866-35.JPG", "caption": "" }, "displayorder": 36, "url": "//cdnparap30.paragonrels.com/ParagonImages/Property/P3/MAXEBRDI/40911866/36/0/0/bb7078fb07d6d6080ebf7f556041d5ef/96/048d60b165d7e559aa6ec76d5388e2b8/40911866-36.JPG", "caption": "" }, "displayorder": 37, "url": "//cdnparap30.paragonrels.com/ParagonImages/Property/P3/MAXEBRDI/40911866/37/0/0/7982c60e5f7f3f19f418c63b95d9b0a9/96/048d60b165d7e559aa6ec76d5388e2b8/40911866-37.JPG", "caption": "" }, "displayorder": 38, "url": "//cdnparap30.paragonrels.com/ParagonImages/Property/P3/MAXEBRDI/40911866/38/0/0/b32b40fd5d3e7b953ca1c38af6ed22ae/96/048d60b165d7e559aa6ec76d5388e2b8/40911866-38.JPG", "caption": "" } ], "agent": { "name": "MICHELE SENITZER", "phone": "510-283-1990", "email": "michelesenitzer@gmail.com" }, "broker": { "name": "RED OAK REALTY", "phone": "", "email": "" } }; ]]>
1007 41St St #212
EMERYVILLE, CA 94608

Click here for map
Condo
$429,000
668 Sq Feet
1 Bedroom
1 Bathroom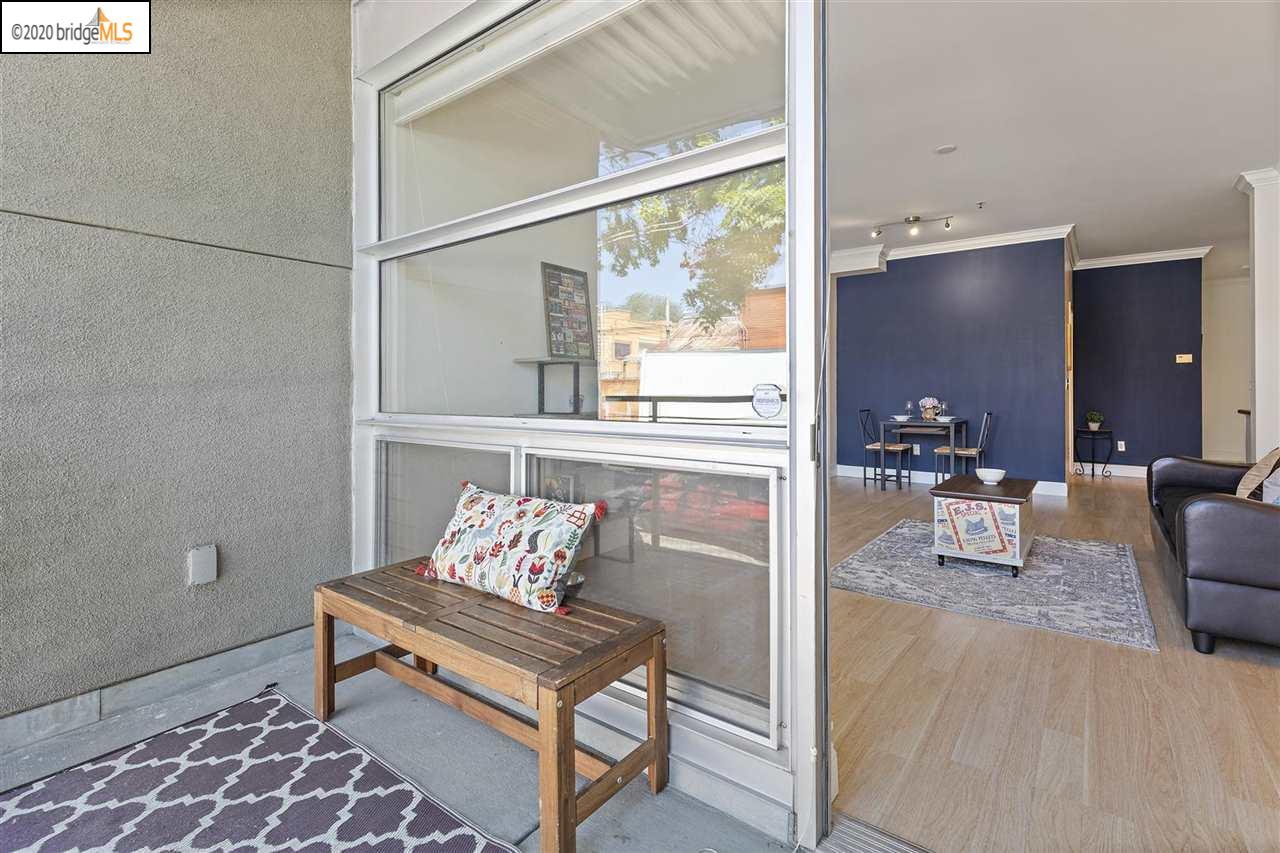 Details:
Lot Sq Feet:
0
Fireplaces:
0
HOA?
Yes
Bank Owned?
No
Status:
Pending
Remarks:
92 WalkScore®! Modern updated 1 bedroom available at the Green City Lofts. Spacious open floor plan with large living/dining room with floor to ceiling windows. Sweet updated kitchen features granite countertops and stainless steel appliances. Unit has it's own small patio with a private entrance as well as it faces a beautiful common area. Deeded parking spot plus guest parking but if you live here you don't need a car! Building has super high-speed internet, EV charger, and radiant heat. All utilities except PGE included! Rentals, pets allowed. Great location in Emeryville near restaurants, shopping, and amenities in Temescal, Downtown Oakland, SF, Berkeley. Only 1 mile to MacArthur BART and 7.5 miles to Downtown SF!
There are currently no open houses for this property. Please contact
MICHELE SENITZER
to schedule an appointment.