<![CDATA[ var dwellicious_data = { "address": "1175 59th Street #4", "city": "OAKLAND", "state": "CA", "zip": "94608", "zip4": "", "area": "", "subdivision": "", "county": "", "price": "649000", "beds": "1", "baths": "1", "sqft": "954", "lotsize": "0", "yearbuilt": "1964-01-01", "proptype": "Residential", "mlsnum": "40909296", "active": true, "remarks": "Transparent Price! Vibrant chic loft-style condo with spacious open floor plan located in Golden Gate neighborhood of North Oakland. This versatile space has a soaring high wood-beam ceiling that provides immense volume and openness. Boasting an updated modern kitchen with stainless steel appliances, plenty of cabinets and countertop space that will bring delight to anyone who loves to cook and to entertain guests. The industrial styling, with clean and sleek lines, polished concrete floors, exposed wood, and metal piping gives the loft a gallery-like feel. This amazing space is only 1 of 11 units in this quiet residential neighborhood. Situated close to trendy Emeryville and Berkeley neighborhoods, the loft is walking distance to popular restaurants, Bay Street, Public Market, Casual Carpool and the free Emery Go-Round Bus. It's the perfect location for both the lifestyle of the daily commuter and someone looking for a live/work space.", "photos": [ { "displayorder": 0, "url": "//cdnparap30.paragonrels.com/ParagonImages/Property/P3/MAXEBRDI/40909296/0/0/0/985612a856d8fb3afcf411338fbabcf7/96/2a74cac3924783ba8fabdf92cec36a67/40909296.JPG", "caption": "" }, "displayorder": 1, "url": "//cdnparap30.paragonrels.com/ParagonImages/Property/P3/MAXEBRDI/40909296/1/0/0/ba2fe1eb48547939628e7a1bebf14918/96/2a74cac3924783ba8fabdf92cec36a67/40909296-1.JPG", "caption": "" }, "displayorder": 2, "url": "//cdnparap30.paragonrels.com/ParagonImages/Property/P3/MAXEBRDI/40909296/2/0/0/2db59b52180621bd9fa293e586080eaa/96/2a74cac3924783ba8fabdf92cec36a67/40909296-2.JPG", "caption": "" }, "displayorder": 3, "url": "//cdnparap30.paragonrels.com/ParagonImages/Property/P3/MAXEBRDI/40909296/3/0/0/a26ba398c18cff1f8fdb79b8c91baf2c/96/2a74cac3924783ba8fabdf92cec36a67/40909296-3.JPG", "caption": "" }, "displayorder": 4, "url": "//cdnparap30.paragonrels.com/ParagonImages/Property/P3/MAXEBRDI/40909296/4/0/0/a546c222d793caec6b9cdbeb818b0040/96/2a74cac3924783ba8fabdf92cec36a67/40909296-4.JPG", "caption": "" }, "displayorder": 5, "url": "//cdnparap30.paragonrels.com/ParagonImages/Property/P3/MAXEBRDI/40909296/5/0/0/ca229760271d05b476ae718cc039762f/96/2a74cac3924783ba8fabdf92cec36a67/40909296-5.JPG", "caption": "" }, "displayorder": 6, "url": "//cdnparap30.paragonrels.com/ParagonImages/Property/P3/MAXEBRDI/40909296/6/0/0/a6c761ecf49e2a64fa6ada30ac543aea/96/2a74cac3924783ba8fabdf92cec36a67/40909296-6.JPG", "caption": "" }, "displayorder": 7, "url": "//cdnparap30.paragonrels.com/ParagonImages/Property/P3/MAXEBRDI/40909296/7/0/0/1068daf4c034d06535bb78a7fde871f4/96/2a74cac3924783ba8fabdf92cec36a67/40909296-7.JPG", "caption": "" }, "displayorder": 8, "url": "//cdnparap30.paragonrels.com/ParagonImages/Property/P3/MAXEBRDI/40909296/8/0/0/b5ebc74c40bffda70a8a670b866f6d84/96/2a74cac3924783ba8fabdf92cec36a67/40909296-8.JPG", "caption": "" }, "displayorder": 9, "url": "//cdnparap30.paragonrels.com/ParagonImages/Property/P3/MAXEBRDI/40909296/9/0/0/73101820a778cd69e752a4541d5f1704/96/2a74cac3924783ba8fabdf92cec36a67/40909296-9.JPG", "caption": "" }, "displayorder": 10, "url": "//cdnparap30.paragonrels.com/ParagonImages/Property/P3/MAXEBRDI/40909296/10/0/0/38eb57a167ae123a66e1960775c3a0b5/96/2a74cac3924783ba8fabdf92cec36a67/40909296-10.JPG", "caption": "" }, "displayorder": 11, "url": "//cdnparap30.paragonrels.com/ParagonImages/Property/P3/MAXEBRDI/40909296/11/0/0/32cf78ac5f7758617ed3b77e44e40c6a/96/2a74cac3924783ba8fabdf92cec36a67/40909296-11.JPG", "caption": "" }, "displayorder": 12, "url": "//cdnparap30.paragonrels.com/ParagonImages/Property/P3/MAXEBRDI/40909296/12/0/0/98349e4d18e57bcd8320ec64f86ee4f1/96/2a74cac3924783ba8fabdf92cec36a67/40909296-12.JPG", "caption": "" }, "displayorder": 13, "url": "//cdnparap30.paragonrels.com/ParagonImages/Property/P3/MAXEBRDI/40909296/13/0/0/742c3848aa291344cdbec4b0ea664f6a/96/2a74cac3924783ba8fabdf92cec36a67/40909296-13.JPG", "caption": "" }, "displayorder": 14, "url": "//cdnparap30.paragonrels.com/ParagonImages/Property/P3/MAXEBRDI/40909296/14/0/0/d512e6c5e945ee30628b0f19bcc79d7d/96/2a74cac3924783ba8fabdf92cec36a67/40909296-14.JPG", "caption": "" }, "displayorder": 15, "url": "//cdnparap30.paragonrels.com/ParagonImages/Property/P3/MAXEBRDI/40909296/19/0/0/4f74c6a929c6e2e498923e4cb4cc7086/96/2a74cac3924783ba8fabdf92cec36a67/40909296-19.JPG", "caption": "" }, "displayorder": 16, "url": "//cdnparap30.paragonrels.com/ParagonImages/Property/P3/MAXEBRDI/40909296/20/0/0/cf506aa8a5a7c3108f96df7782fc1516/96/2a74cac3924783ba8fabdf92cec36a67/40909296-20.JPG", "caption": "" }, "displayorder": 17, "url": "//cdnparap30.paragonrels.com/ParagonImages/Property/P3/MAXEBRDI/40909296/21/0/0/d4d6528fb3600cbbd38d5200fe85671f/96/2a74cac3924783ba8fabdf92cec36a67/40909296-21.JPG", "caption": "" }, "displayorder": 18, "url": "//cdnparap30.paragonrels.com/ParagonImages/Property/P3/MAXEBRDI/40909296/22/0/0/5007c46e40bec6340245c3d11c49e34c/96/2a74cac3924783ba8fabdf92cec36a67/40909296-22.JPG", "caption": "" }, "displayorder": 19, "url": "//cdnparap30.paragonrels.com/ParagonImages/Property/P3/MAXEBRDI/40909296/23/0/0/7f938d6496bc43f75f7fccef5da7096d/96/2a74cac3924783ba8fabdf92cec36a67/40909296-23.JPG", "caption": "" }, "displayorder": 20, "url": "//cdnparap30.paragonrels.com/ParagonImages/Property/P3/MAXEBRDI/40909296/24/0/0/71e56e8a7ec3c71a078e0226969037ad/96/2a74cac3924783ba8fabdf92cec36a67/40909296-24.JPG", "caption": "" }, "displayorder": 21, "url": "//cdnparap30.paragonrels.com/ParagonImages/Property/P3/MAXEBRDI/40909296/25/0/0/ac72e369205137869367d05c0e190d78/96/2a74cac3924783ba8fabdf92cec36a67/40909296-25.JPG", "caption": "" }, "displayorder": 22, "url": "//cdnparap30.paragonrels.com/ParagonImages/Property/P3/MAXEBRDI/40909296/26/0/0/7fb803afdd83b05407ff08280e5e22a9/96/2a74cac3924783ba8fabdf92cec36a67/40909296-26.JPG", "caption": "" }, "displayorder": 23, "url": "//cdnparap30.paragonrels.com/ParagonImages/Property/P3/MAXEBRDI/40909296/27/0/0/ee50c4b4de2b5cc163a66403226a5d8d/96/2a74cac3924783ba8fabdf92cec36a67/40909296-27.JPG", "caption": "" }, "displayorder": 24, "url": "//cdnparap30.paragonrels.com/ParagonImages/Property/P3/MAXEBRDI/40909296/29/0/0/34d5ab4a8529e2493fbe0d1c52fa23bc/96/2a74cac3924783ba8fabdf92cec36a67/40909296-29.JPG", "caption": "" }, "displayorder": 25, "url": "//cdnparap30.paragonrels.com/ParagonImages/Property/P3/MAXEBRDI/40909296/30/0/0/9f6be8ab7437dcceec0e8705aa6edd9f/96/2a74cac3924783ba8fabdf92cec36a67/40909296-30.JPG", "caption": "" }, "displayorder": 26, "url": "//cdnparap30.paragonrels.com/ParagonImages/Property/P3/MAXEBRDI/40909296/31/0/0/2eb94366a1cd79d492dc113df97be607/96/2a74cac3924783ba8fabdf92cec36a67/40909296-31.JPG", "caption": "" }, "displayorder": 27, "url": "//cdnparap30.paragonrels.com/ParagonImages/Property/P3/MAXEBRDI/40909296/33/0/0/fe8978079abb0968f2842682e06f8ab0/96/2a74cac3924783ba8fabdf92cec36a67/40909296-33.JPG", "caption": "" }, "displayorder": 28, "url": "//cdnparap30.paragonrels.com/ParagonImages/Property/P3/MAXEBRDI/40909296/34/0/0/cc1ce921fd135e92e03ce4c8f47c0fd5/96/2a74cac3924783ba8fabdf92cec36a67/40909296-34.JPG", "caption": "" }, "displayorder": 29, "url": "//cdnparap30.paragonrels.com/ParagonImages/Property/P3/MAXEBRDI/40909296/35/0/0/f573a5c6ea142262aaa8812b08beab00/96/2a74cac3924783ba8fabdf92cec36a67/40909296-35.JPG", "caption": "" } ], "agent": { "name": "TATUM BOYLE", "phone": "510-561-7373", "email": "tatumboyle@gmail.com" }, "broker": { "name": "COMPASS", "phone": "", "email": "" } }; ]]>
1175 59th Street #4
OAKLAND, CA 94608

Click here for map
Condo
$649,000
954 Sq Feet
1 Bedroom
1 Bathroom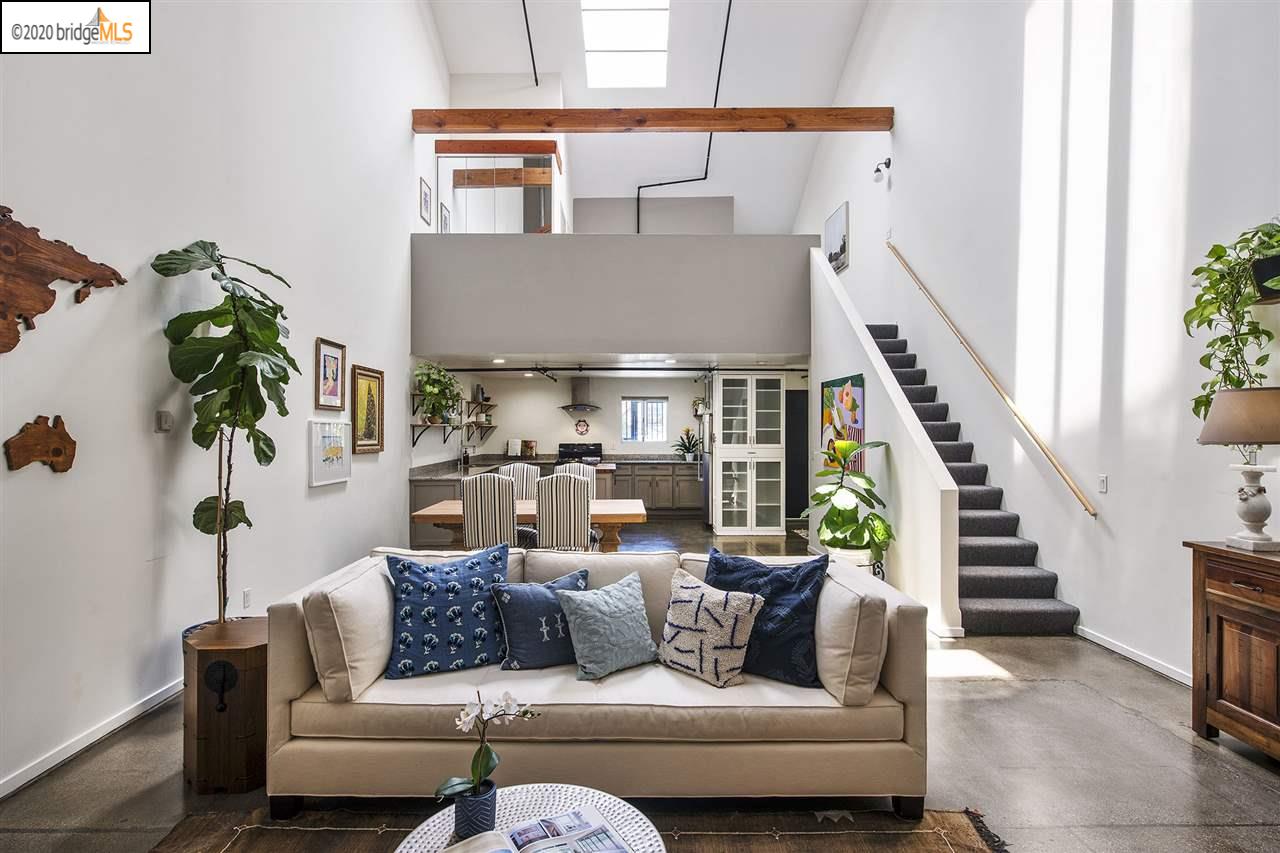 Details:
Lot Sq Feet:
0
Fireplaces:
0
HOA?
Yes
Bank Owned?
No
Status:
Active
Remarks:
Transparent Price! Vibrant chic loft-style condo with spacious open floor plan located in Golden Gate neighborhood of North Oakland. This versatile space has a soaring high wood-beam ceiling that provides immense volume and openness. Boasting an updated modern kitchen with stainless steel appliances, plenty of cabinets and countertop space that will bring delight to anyone who loves to cook and to entertain guests. The industrial styling, with clean and sleek lines, polished concrete floors, exposed wood, and metal piping gives the loft a gallery-like feel. This amazing space is only 1 of 11 units in this quiet residential neighborhood. Situated close to trendy Emeryville and Berkeley neighborhoods, the loft is walking distance to popular restaurants, Bay Street, Public Market, Casual Carpool and the free Emery Go-Round Bus. It's the perfect location for both the lifestyle of the daily commuter and someone looking for a live/work space.
There are currently no open houses for this property. Please contact
TATUM BOYLE
to schedule an appointment.