<![CDATA[ var dwellicious_data = { "address": "737 2nd St #306", "city": "OAKLAND", "state": "CA", "zip": "94607", "zip4": "", "area": "", "subdivision": "", "county": "", "price": "845000", "beds": "1", "baths": "1", "sqft": "1473", "lotsize": "0", "yearbuilt": "1920-01-01", "proptype": "Residential", "mlsnum": "40908368", "active": true, "remarks": "A true industrial loft located in the historic Phoenix Ironworks building! With its vaulted ceilings, concrete walls, exposed piping and large concrete columns it has a quintessential NYC loft vibe all while providing the comforts of modern living. Unit #306 has 1,473 sq.ft.* of open living with in-unit laundry, 3 large closets and chef's kitchen complete with a large wine fridge, stainless steel appliances and DCS gas range. The dining area opens out onto a private deck but there is also a community roof deck that is great for entertaining, and enjoying panoramic views of the Estuary, Port of Oakland and Downtown area. JLS offers a wide variety eating and drinking spots and entertainment venues including Yoshi's jazz club, Plank Bowling & Beer garden and a multi-screen cinema. Superb SUN Farmer's Market, Festivals and easy access to the San Francisco/Alameda Ferry, BART, Free B Shuttle, and 880/80 Corridor. https://www.redoakrealty.com/phoenixloft306", "photos": [ { "displayorder": 0, "url": "//cdnparap30.paragonrels.com/ParagonImages/Property/P3/MAXEBRDI/40908368/0/0/0/3cc622cc1c557751bbb8720ec52272ff/96/1342d3fba67f6dca9dbda334cc33d704/40908368.JPG", "caption": "" }, "displayorder": 1, "url": "//cdnparap30.paragonrels.com/ParagonImages/Property/P3/MAXEBRDI/40908368/1/0/0/45913d6ff0715f83778666dca9b4b28f/96/1342d3fba67f6dca9dbda334cc33d704/40908368-1.JPG", "caption": "" }, "displayorder": 2, "url": "//cdnparap30.paragonrels.com/ParagonImages/Property/P3/MAXEBRDI/40908368/2/0/0/dbbb1b4a5e1cbd36260cb0f2b2b690e9/96/1342d3fba67f6dca9dbda334cc33d704/40908368-2.JPG", "caption": "" }, "displayorder": 3, "url": "//cdnparap30.paragonrels.com/ParagonImages/Property/P3/MAXEBRDI/40908368/3/0/0/e6593d6f1953c4afac39ec3c16104c3a/96/1342d3fba67f6dca9dbda334cc33d704/40908368-3.JPG", "caption": "" }, "displayorder": 4, "url": "//cdnparap30.paragonrels.com/ParagonImages/Property/P3/MAXEBRDI/40908368/4/0/0/39c16dcfa32dd819dc9158b273dde781/96/1342d3fba67f6dca9dbda334cc33d704/40908368-4.JPG", "caption": "" }, "displayorder": 5, "url": "//cdnparap30.paragonrels.com/ParagonImages/Property/P3/MAXEBRDI/40908368/5/0/0/b7b5d19c77030e90366933aa5a14d1ba/96/1342d3fba67f6dca9dbda334cc33d704/40908368-5.JPG", "caption": "" }, "displayorder": 6, "url": "//cdnparap30.paragonrels.com/ParagonImages/Property/P3/MAXEBRDI/40908368/6/0/0/7dcf7b0549a25cbe3d2b7968ff368fce/96/1342d3fba67f6dca9dbda334cc33d704/40908368-6.JPG", "caption": "" }, "displayorder": 7, "url": "//cdnparap30.paragonrels.com/ParagonImages/Property/P3/MAXEBRDI/40908368/7/0/0/40cc126ffd6d0eff661502e40b18dddc/96/1342d3fba67f6dca9dbda334cc33d704/40908368-7.JPG", "caption": "" }, "displayorder": 8, "url": "//cdnparap30.paragonrels.com/ParagonImages/Property/P3/MAXEBRDI/40908368/8/0/0/305a23c9affc05e0976fd4163a34fbea/96/1342d3fba67f6dca9dbda334cc33d704/40908368-8.JPG", "caption": "" }, "displayorder": 9, "url": "//cdnparap30.paragonrels.com/ParagonImages/Property/P3/MAXEBRDI/40908368/9/0/0/f0be5b7e33ee3daabe05ea991ce0d256/96/1342d3fba67f6dca9dbda334cc33d704/40908368-9.JPG", "caption": "" }, "displayorder": 10, "url": "//cdnparap30.paragonrels.com/ParagonImages/Property/P3/MAXEBRDI/40908368/10/0/0/dbc48ea2ed5b39ad76bedbb943961d68/96/1342d3fba67f6dca9dbda334cc33d704/40908368-10.JPG", "caption": "" }, "displayorder": 11, "url": "//cdnparap30.paragonrels.com/ParagonImages/Property/P3/MAXEBRDI/40908368/11/0/0/3787e32a642e6cd0753824a36c8fd7ea/96/1342d3fba67f6dca9dbda334cc33d704/40908368-11.JPG", "caption": "" }, "displayorder": 12, "url": "//cdnparap30.paragonrels.com/ParagonImages/Property/P3/MAXEBRDI/40908368/12/0/0/e1746216e6320ac05af0a8f36ba7f612/96/1342d3fba67f6dca9dbda334cc33d704/40908368-12.JPG", "caption": "" }, "displayorder": 13, "url": "//cdnparap30.paragonrels.com/ParagonImages/Property/P3/MAXEBRDI/40908368/13/0/0/66f27e4a13ddbc226f9f963589496e57/96/1342d3fba67f6dca9dbda334cc33d704/40908368-13.JPG", "caption": "" }, "displayorder": 14, "url": "//cdnparap30.paragonrels.com/ParagonImages/Property/P3/MAXEBRDI/40908368/14/0/0/6f6b8caa347472724100daa559cb14fb/96/1342d3fba67f6dca9dbda334cc33d704/40908368-14.JPG", "caption": "" } ], "agent": { "name": "CHIMENE POLLARD", "phone": "510-846-3601", "email": "Chimene@Team510.com" }, "broker": { "name": "RED OAK REALTY", "phone": "", "email": "" } }; ]]>
737 2nd St #306
OAKLAND, CA 94607

Click here for map
Unknown
$845,000
1,473 Sq Feet
1 Bedroom
1 Bathroom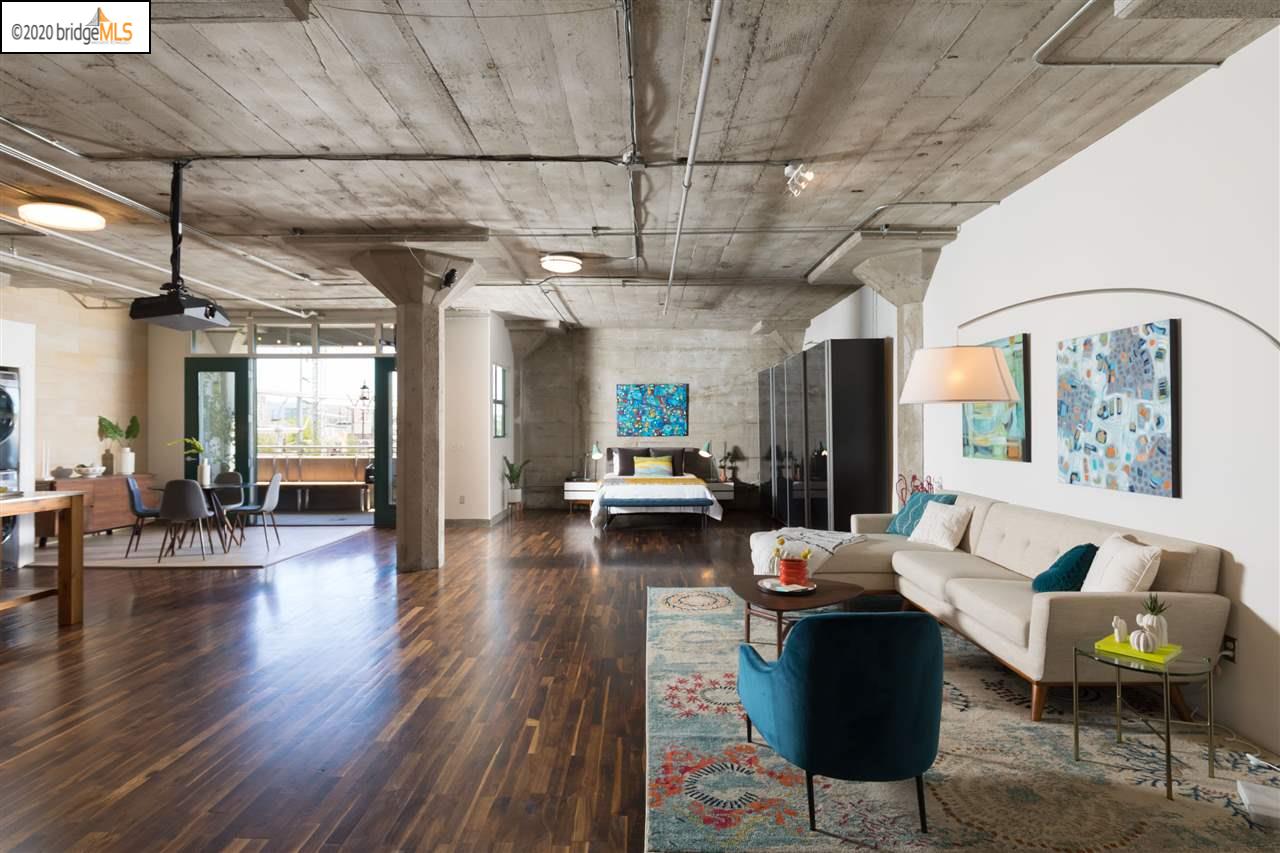 Details:
Lot Sq Feet:
0
Fireplaces:
0
HOA?
Yes
Bank Owned?
No
Status:
Active
Remarks:
A true industrial loft located in the historic Phoenix Ironworks building! With its vaulted ceilings, concrete walls, exposed piping and large concrete columns it has a quintessential NYC loft vibe all while providing the comforts of modern living. Unit #306 has 1,473 sq.ft.* of open living with in-unit laundry, 3 large closets and chef's kitchen complete with a large wine fridge, stainless steel appliances and DCS gas range. The dining area opens out onto a private deck but there is also a community roof deck that is great for entertaining, and enjoying panoramic views of the Estuary, Port of Oakland and Downtown area. JLS offers a wide variety eating and drinking spots and entertainment venues including Yoshi's jazz club, Plank Bowling & Beer garden and a multi-screen cinema. Superb SUN Farmer's Market, Festivals and easy access to the San Francisco/Alameda Ferry, BART, Free B Shuttle, and 880/80 Corridor. https://www.redoakrealty.com/phoenixloft306
There are currently no open houses for this property. Please contact
CHIMENE POLLARD
to schedule an appointment.