<![CDATA[ var dwellicious_data = { "address": "141 Echo Ave ", "city": "OAKLAND", "state": "CA", "zip": "94611-4309", "zip4": "", "area": "", "subdivision": "", "county": "", "price": "1200000", "beds": "2", "baths": "1", "sqft": "1256", "lotsize": "4448", "yearbuilt": "1913-01-01", "proptype": "Residential", "mlsnum": "40905763", "active": false, "remarks": "Beautiful 2 Bedroom 1 and 1 half bath Oakland Craftsman Bungalow with lots of charm. Located on the Oakland Piedmont border with a 94 Walk-score and 1 block from Piedmont Avenue with restaurants and shopping. Kitchen opens to living room and dining area. Refinished oak hardwood floors throughout. Laundry hookup for stack-able washer and dryer. Jasmine bushes line the entrance to the home and backyard is fully landscaped with drip system, slate walkways and garden lights on a timer system. Large redwood deck adjacent to back bedroom. Large basement with windows and entry door under the deck. Home is extremely well maintained, and foundation has been completely replaced. This cute home has so many great features, I can't list them all. Slide Show link below: https://listings.allaccessphoto.com/141-echo-ave-oakland-42856/unbranded", "photos": [ { "displayorder": 0, "url": "//cdnparap30.paragonrels.com/ParagonImages/Property/P3/MAXEBRDI/40905763/0/0/0/3b9b37f86253616e7e04c98a63c69d95/93/7eec2be81e5901697c521ace9acc690a/40905763.JPG", "caption": "" }, "displayorder": 1, "url": "//cdnparap30.paragonrels.com/ParagonImages/Property/P3/MAXEBRDI/40905763/1/0/0/145000e8bbc964571a93818627d748f4/93/7eec2be81e5901697c521ace9acc690a/40905763-1.JPG", "caption": "" }, "displayorder": 2, "url": "//cdnparap30.paragonrels.com/ParagonImages/Property/P3/MAXEBRDI/40905763/2/0/0/c679dc7524f1f52079b91aa26cd12da3/93/7eec2be81e5901697c521ace9acc690a/40905763-2.JPG", "caption": "" }, "displayorder": 3, "url": "//cdnparap30.paragonrels.com/ParagonImages/Property/P3/MAXEBRDI/40905763/3/0/0/264e41f99decae3e9d6d4383d23483f1/93/7eec2be81e5901697c521ace9acc690a/40905763-3.JPG", "caption": "" }, "displayorder": 4, "url": "//cdnparap30.paragonrels.com/ParagonImages/Property/P3/MAXEBRDI/40905763/4/0/0/c52b6ba30da0583ef11ceb597928871e/93/7eec2be81e5901697c521ace9acc690a/40905763-4.JPG", "caption": "" }, "displayorder": 5, "url": "//cdnparap30.paragonrels.com/ParagonImages/Property/P3/MAXEBRDI/40905763/5/0/0/2b1d2e39f46bbae3c01ae6a8d024a8f2/93/7eec2be81e5901697c521ace9acc690a/40905763-5.JPG", "caption": "" }, "displayorder": 6, "url": "//cdnparap30.paragonrels.com/ParagonImages/Property/P3/MAXEBRDI/40905763/6/0/0/bf2cab72345ed41375ce59c159dbf646/93/7eec2be81e5901697c521ace9acc690a/40905763-6.JPG", "caption": "" }, "displayorder": 7, "url": "//cdnparap30.paragonrels.com/ParagonImages/Property/P3/MAXEBRDI/40905763/7/0/0/ddc3fdfd7e11252099775fb1a7fc44ec/93/7eec2be81e5901697c521ace9acc690a/40905763-7.JPG", "caption": "" }, "displayorder": 8, "url": "//cdnparap30.paragonrels.com/ParagonImages/Property/P3/MAXEBRDI/40905763/8/0/0/8352f5f3adb6dd87108b1e73111ad517/93/7eec2be81e5901697c521ace9acc690a/40905763-8.JPG", "caption": "" }, "displayorder": 9, "url": "//cdnparap30.paragonrels.com/ParagonImages/Property/P3/MAXEBRDI/40905763/9/0/0/1241467b891a927e599d15fef72843fc/93/7eec2be81e5901697c521ace9acc690a/40905763-9.JPG", "caption": "" }, "displayorder": 10, "url": "//cdnparap30.paragonrels.com/ParagonImages/Property/P3/MAXEBRDI/40905763/10/0/0/a7aee9af0c0affcaacf59bde8eed72e9/93/7eec2be81e5901697c521ace9acc690a/40905763-10.JPG", "caption": "" }, "displayorder": 11, "url": "//cdnparap30.paragonrels.com/ParagonImages/Property/P3/MAXEBRDI/40905763/11/0/0/5623d43c711bcd5c5cfea5cba3e8b37e/93/7eec2be81e5901697c521ace9acc690a/40905763-11.JPG", "caption": "" }, "displayorder": 12, "url": "//cdnparap30.paragonrels.com/ParagonImages/Property/P3/MAXEBRDI/40905763/12/0/0/3fa8042b203f7db89cc164e374622295/93/7eec2be81e5901697c521ace9acc690a/40905763-12.JPG", "caption": "" }, "displayorder": 13, "url": "//cdnparap30.paragonrels.com/ParagonImages/Property/P3/MAXEBRDI/40905763/13/0/0/d98c954da58416a30af3f0ee6133734e/93/7eec2be81e5901697c521ace9acc690a/40905763-13.JPG", "caption": "" }, "displayorder": 14, "url": "//cdnparap30.paragonrels.com/ParagonImages/Property/P3/MAXEBRDI/40905763/14/0/0/fe7773584b5aaaaf6fb42d13d39046ed/93/7eec2be81e5901697c521ace9acc690a/40905763-14.JPG", "caption": "" }, "displayorder": 15, "url": "//cdnparap30.paragonrels.com/ParagonImages/Property/P3/MAXEBRDI/40905763/15/0/0/599a8c944d887b60d1c82e96730d7364/93/7eec2be81e5901697c521ace9acc690a/40905763-15.JPG", "caption": "" }, "displayorder": 16, "url": "//cdnparap30.paragonrels.com/ParagonImages/Property/P3/MAXEBRDI/40905763/16/0/0/024c6d762a9034b516852dd016b685ad/93/7eec2be81e5901697c521ace9acc690a/40905763-16.JPG", "caption": "" }, "displayorder": 17, "url": "//cdnparap30.paragonrels.com/ParagonImages/Property/P3/MAXEBRDI/40905763/17/0/0/351ef5582da5a61e59d889c098eefb66/93/7eec2be81e5901697c521ace9acc690a/40905763-17.JPG", "caption": "" }, "displayorder": 18, "url": "//cdnparap30.paragonrels.com/ParagonImages/Property/P3/MAXEBRDI/40905763/18/0/0/8766ebc29469fab273bf497bb0204fc8/93/7eec2be81e5901697c521ace9acc690a/40905763-18.JPG", "caption": "" }, "displayorder": 19, "url": "//cdnparap30.paragonrels.com/ParagonImages/Property/P3/MAXEBRDI/40905763/19/0/0/3c9ebd04acadb4be2ad87c283e7dbd36/93/7eec2be81e5901697c521ace9acc690a/40905763-19.JPG", "caption": "" }, "displayorder": 20, "url": "//cdnparap30.paragonrels.com/ParagonImages/Property/P3/MAXEBRDI/40905763/20/0/0/a81814a176a2715f1cc93c0aae136e3c/93/7eec2be81e5901697c521ace9acc690a/40905763-20.JPG", "caption": "" }, "displayorder": 21, "url": "//cdnparap30.paragonrels.com/ParagonImages/Property/P3/MAXEBRDI/40905763/21/0/0/4dda2903a27b828bbf15042a70c1cefa/93/7eec2be81e5901697c521ace9acc690a/40905763-21.JPG", "caption": "" } ], "agent": { "name": "John Jackson", "phone": "925-8585713", "email": "john.jackson@exprealty.com" }, "broker": { "name": "Exp Realty of California Inc.", "phone": "", "email": "" } }; ]]>
141 Echo Ave
OAKLAND, CA 94611-4309

Click here for map
Residential Home
$1,200,000
1,256 Sq Feet
2 Bedrooms
1 Bathroom
1 Partial Bath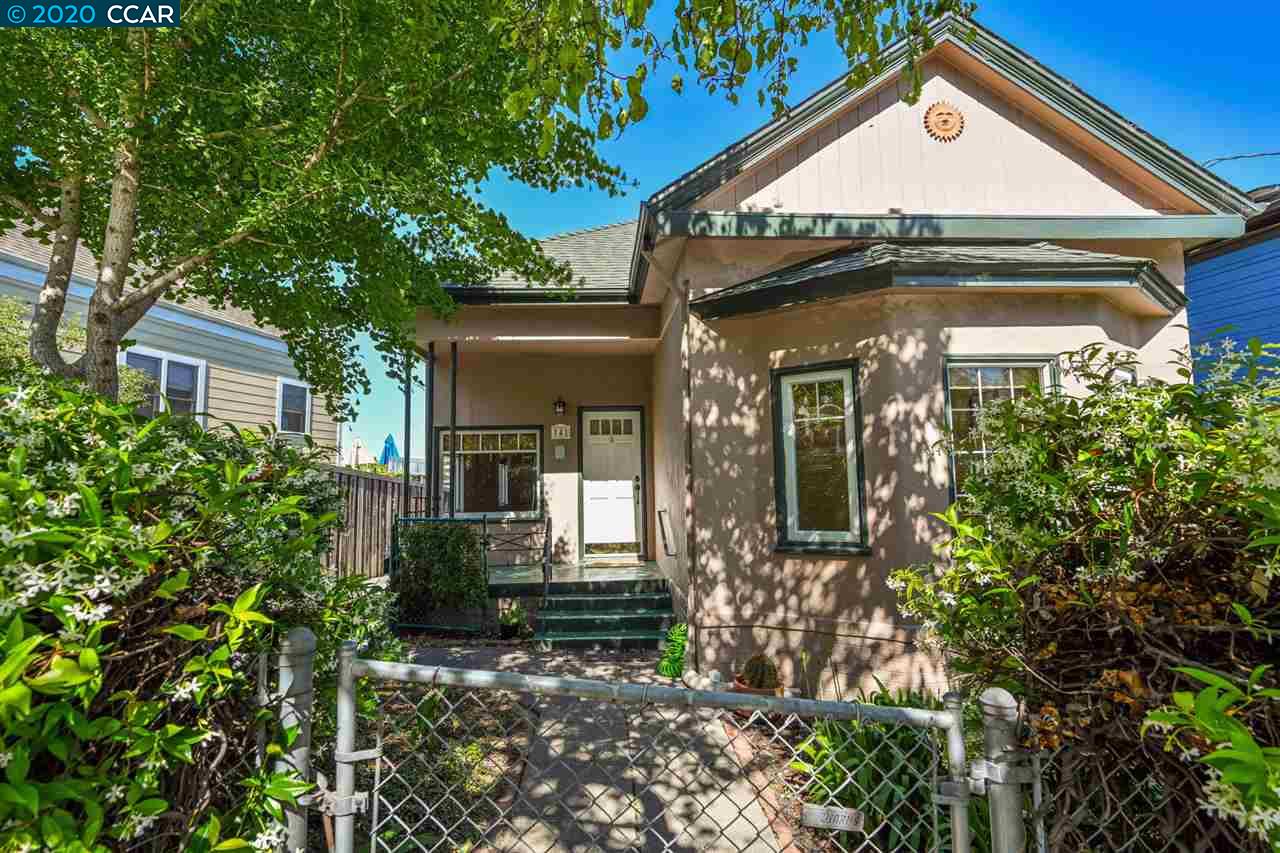 Listed by John Jackson of Exp Realty of California Inc.
DRE# 01763819
Details:
Lot Sq Feet:
4,448
Fireplaces:
0
HOA?
No
Bank Owned?
No
Status:
Pending
Remarks:
Beautiful 2 Bedroom 1 and 1 half bath Oakland Craftsman Bungalow with lots of charm. Located on the Oakland Piedmont border with a 94 Walk-score and 1 block from Piedmont Avenue with restaurants and shopping. Kitchen opens to living room and dining area. Refinished oak hardwood floors throughout. Laundry hookup for stack-able washer and dryer. Jasmine bushes line the entrance to the home and backyard is fully landscaped with drip system, slate walkways and garden lights on a timer system. Large redwood deck adjacent to back bedroom. Large basement with windows and entry door under the deck. Home is extremely well maintained, and foundation has been completely replaced. This cute home has so many great features, I can't list them all. Slide Show link below: https://listings.allaccessphoto.com/141-echo-ave-oakland-42856/unbranded
There are currently no open houses for this property. Please contact
John Jackson
to schedule an appointment.