<![CDATA[ var dwellicious_data = { "address": "236 Shearwater Way ", "city": "OAKLEY", "state": "CA", "zip": "94561", "zip4": "", "area": "", "subdivision": "", "county": "", "price": "750000", "beds": "5", "baths": "4", "sqft": "3564", "lotsize": "5500", "yearbuilt": "2020-01-01", "proptype": "Residential", "mlsnum": "40906693", "active": false, "remarks": "Ready to Move-in! Brand new 5-bedroom home has luxurious living space of 3564 sq. ft., 4 generous bathrooms with tile stall, large family room with built-in stereo speakers, formal dining room, street-facing office, and spacious loft. Gourmet kitchen features granite counter tops, stainless steel appliances, huge island, open dining area, and beautiful plank flooring. Craft room can be used as media/music room or study/play room for kids. You can watch kids doing homework or playing while preparing food for family. Upstairs master suite has immense master bathroom with dual vanity, tile countertop, shower with glass enclosure, sunken tub, tile floor, and huge walk-in closet. Two bedrooms have own private access to the ensuite bathroom with dual vanity and tile shower over tub. Dual-pane windows throughout the entire house with beautiful window coverings. Washer/Dryer/Fridge stay with the house. Walking to schools. Builder warranty will expire at 01/21. Act Now!", "photos": [ { "displayorder": 0, "url": "//cdnparap30.paragonrels.com/ParagonImages/Property/P3/MAXEBRDI/40906693/0/0/0/b78445ac865b1b924f6424a867140438/98/9c54af3ec996ed646b127f330881e177/40906693.JPG", "caption": "" }, "displayorder": 1, "url": "//cdnparap30.paragonrels.com/ParagonImages/Property/P3/MAXEBRDI/40906693/1/0/0/5157ab0b5ff0c75225c3ef9105361d02/98/9c54af3ec996ed646b127f330881e177/40906693-1.JPG", "caption": "" }, "displayorder": 2, "url": "//cdnparap30.paragonrels.com/ParagonImages/Property/P3/MAXEBRDI/40906693/2/0/0/91f72ede192384cb74541c11191c1e01/98/9c54af3ec996ed646b127f330881e177/40906693-2.JPG", "caption": "" }, "displayorder": 3, "url": "//cdnparap30.paragonrels.com/ParagonImages/Property/P3/MAXEBRDI/40906693/3/0/0/6ca5e73e4680d4d401d7adb85b6fdcf1/98/9c54af3ec996ed646b127f330881e177/40906693-3.JPG", "caption": "" }, "displayorder": 4, "url": "//cdnparap30.paragonrels.com/ParagonImages/Property/P3/MAXEBRDI/40906693/4/0/0/7cf1d786288ae01ac894eefec84bacf9/98/9c54af3ec996ed646b127f330881e177/40906693-4.JPG", "caption": "" }, "displayorder": 5, "url": "//cdnparap30.paragonrels.com/ParagonImages/Property/P3/MAXEBRDI/40906693/5/0/0/4eaac642c824e49f83a41198a88123aa/98/9c54af3ec996ed646b127f330881e177/40906693-5.JPG", "caption": "" }, "displayorder": 6, "url": "//cdnparap30.paragonrels.com/ParagonImages/Property/P3/MAXEBRDI/40906693/6/0/0/c2e16687e06b4cae0bf6e4e3d663959e/98/9c54af3ec996ed646b127f330881e177/40906693-6.JPG", "caption": "" }, "displayorder": 7, "url": "//cdnparap30.paragonrels.com/ParagonImages/Property/P3/MAXEBRDI/40906693/7/0/0/70703e6558efd43dca05ce166a1c4688/98/9c54af3ec996ed646b127f330881e177/40906693-7.JPG", "caption": "" }, "displayorder": 8, "url": "//cdnparap30.paragonrels.com/ParagonImages/Property/P3/MAXEBRDI/40906693/8/0/0/c560207af70d0d4977f7ab3c3f48b43e/98/9c54af3ec996ed646b127f330881e177/40906693-8.JPG", "caption": "" }, "displayorder": 9, "url": "//cdnparap30.paragonrels.com/ParagonImages/Property/P3/MAXEBRDI/40906693/9/0/0/acf015e45bfdd75c5617913487c61520/98/9c54af3ec996ed646b127f330881e177/40906693-9.JPG", "caption": "" }, "displayorder": 10, "url": "//cdnparap30.paragonrels.com/ParagonImages/Property/P3/MAXEBRDI/40906693/10/0/0/acde243b2b893c961b4d08b41b3443c8/98/9c54af3ec996ed646b127f330881e177/40906693-10.JPG", "caption": "" }, "displayorder": 11, "url": "//cdnparap30.paragonrels.com/ParagonImages/Property/P3/MAXEBRDI/40906693/11/0/0/7075a2eff4d5224922e6f398ad868220/98/9c54af3ec996ed646b127f330881e177/40906693-11.JPG", "caption": "" }, "displayorder": 12, "url": "//cdnparap30.paragonrels.com/ParagonImages/Property/P3/MAXEBRDI/40906693/12/0/0/83fecaadb9c33f9e3bf344ff48611653/98/9c54af3ec996ed646b127f330881e177/40906693-12.JPG", "caption": "" }, "displayorder": 13, "url": "//cdnparap30.paragonrels.com/ParagonImages/Property/P3/MAXEBRDI/40906693/13/0/0/528ec86a9e21fbfc7d067832f6835c90/98/9c54af3ec996ed646b127f330881e177/40906693-13.JPG", "caption": "" }, "displayorder": 14, "url": "//cdnparap30.paragonrels.com/ParagonImages/Property/P3/MAXEBRDI/40906693/14/0/0/97d6b24d82114f6c3d3b0b2de54a5968/98/9c54af3ec996ed646b127f330881e177/40906693-14.JPG", "caption": "" }, "displayorder": 15, "url": "//cdnparap30.paragonrels.com/ParagonImages/Property/P3/MAXEBRDI/40906693/15/0/0/5a977666da70cf5834c4902dfe3c6ec0/98/9c54af3ec996ed646b127f330881e177/40906693-15.JPG", "caption": "" }, "displayorder": 16, "url": "//cdnparap30.paragonrels.com/ParagonImages/Property/P3/MAXEBRDI/40906693/16/0/0/518d296cd713f995600b4ca38b695c58/98/9c54af3ec996ed646b127f330881e177/40906693-16.JPG", "caption": "" }, "displayorder": 17, "url": "//cdnparap30.paragonrels.com/ParagonImages/Property/P3/MAXEBRDI/40906693/17/0/0/d59fc380d4b72f803dd9619638d1e638/98/9c54af3ec996ed646b127f330881e177/40906693-17.JPG", "caption": "" }, "displayorder": 18, "url": "//cdnparap30.paragonrels.com/ParagonImages/Property/P3/MAXEBRDI/40906693/18/0/0/7ad7b2e1fb5501370a3f50257766bbdc/98/9c54af3ec996ed646b127f330881e177/40906693-18.JPG", "caption": "" }, "displayorder": 19, "url": "//cdnparap30.paragonrels.com/ParagonImages/Property/P3/MAXEBRDI/40906693/19/0/0/b6506edb44cd747a015ef8e2cae0501b/98/9c54af3ec996ed646b127f330881e177/40906693-19.JPG", "caption": "" }, "displayorder": 20, "url": "//cdnparap30.paragonrels.com/ParagonImages/Property/P3/MAXEBRDI/40906693/20/0/0/4e56cd1d0c4b9d30a8ccaf253fa62399/98/9c54af3ec996ed646b127f330881e177/40906693-20.JPG", "caption": "" }, "displayorder": 21, "url": "//cdnparap30.paragonrels.com/ParagonImages/Property/P3/MAXEBRDI/40906693/21/0/0/72a0474c99b14ac39a7ce8194f913f19/98/9c54af3ec996ed646b127f330881e177/40906693-21.JPG", "caption": "" }, "displayorder": 22, "url": "//cdnparap30.paragonrels.com/ParagonImages/Property/P3/MAXEBRDI/40906693/22/0/0/90ecb3986e05d7952c4a7bea7dfe4d3b/98/9c54af3ec996ed646b127f330881e177/40906693-22.JPG", "caption": "" }, "displayorder": 23, "url": "//cdnparap30.paragonrels.com/ParagonImages/Property/P3/MAXEBRDI/40906693/23/0/0/629a5894ec589ab45dfc4772c40d8364/98/9c54af3ec996ed646b127f330881e177/40906693-23.JPG", "caption": "" }, "displayorder": 24, "url": "//cdnparap30.paragonrels.com/ParagonImages/Property/P3/MAXEBRDI/40906693/24/0/0/5b118a44df4fbf03647bf4b99431d809/98/9c54af3ec996ed646b127f330881e177/40906693-24.JPG", "caption": "" } ], "agent": { "name": "Chris Quan", "phone": "925-588-4971", "email": "xiangyang.quan@gmail.com" }, "broker": { "name": "Real Estate Source, Inc.", "phone": "", "email": "" } }; ]]>
236 Shearwater Way
OAKLEY, CA 94561

Click here for map
Residential Home
$750,000
3,564 Sq Feet
5 Bedrooms
4 Bathrooms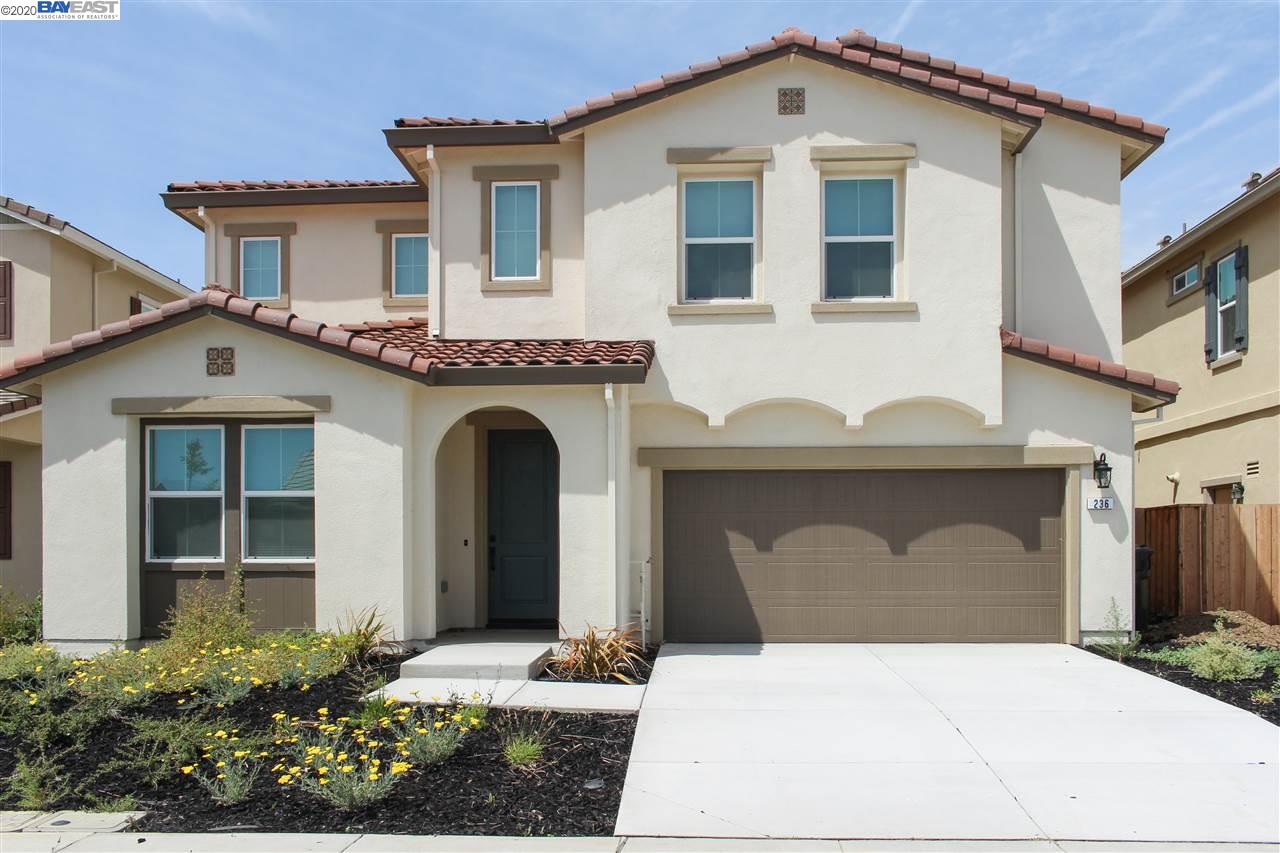 Listed by Chris Quan of Real Estate Source, Inc.
DRE# 01924051
Details:
Lot Sq Feet:
5,500
Fireplaces:
0
HOA?
No
Bank Owned?
No
Status:
Pending
Remarks:
Ready to Move-in! Brand new 5-bedroom home has luxurious living space of 3564 sq. ft., 4 generous bathrooms with tile stall, large family room with built-in stereo speakers, formal dining room, street-facing office, and spacious loft. Gourmet kitchen features granite counter tops, stainless steel appliances, huge island, open dining area, and beautiful plank flooring. Craft room can be used as media/music room or study/play room for kids. You can watch kids doing homework or playing while preparing food for family. Upstairs master suite has immense master bathroom with dual vanity, tile countertop, shower with glass enclosure, sunken tub, tile floor, and huge walk-in closet. Two bedrooms have own private access to the ensuite bathroom with dual vanity and tile shower over tub. Dual-pane windows throughout the entire house with beautiful window coverings. Washer/Dryer/Fridge stay with the house. Walking to schools. Builder warranty will expire at 01/21. Act Now!
There are currently no open houses for this property. Please contact
Chris Quan
to schedule an appointment.