<![CDATA[ var dwellicious_data = { "address": "4519 Howe St ", "city": "OAKLAND", "state": "CA", "zip": "94611", "zip4": "", "area": "", "subdivision": "", "county": "", "price": "1995000", "beds": "4", "baths": "3", "sqft": "2507", "lotsize": "2624", "yearbuilt": "2020-01-01", "proptype": "Residential", "mlsnum": "40906564", "active": false, "remarks": "New Construction Walkable to Piedmont Ave! Incredible location. Adjacent to shops and restaurants AND over 29 acres of open space AND commuter friendly. 4 new homes just released at Oakmont off Piedmont. 3-4 bedroom homes 2400-3200 SF. Each home has been thoughtfully designed, sourced & constructed by established local development team. Planned for comfort w/ optional air conditioning, solar panels, car chargers, elevators & in-law suites. Open floor plans w/ expansive folding doors lead out to the lovely private patio. Exquisite details in each unique home include real hardwood flooring throughout, designer chef's kitchen w/ commercial range & appliance package, custom stair balustrades & wood moldings, custom tile details, ample closet & storage. 2 car dedicated parking & garage. Private yards w/ professionally designed landscaping that will gracefully mature. See the difference that quality construction / materials, & thoughtful design can offer.", "photos": [ { "displayorder": 0, "url": "//cdnparap30.paragonrels.com/ParagonImages/Property/P3/MAXEBRDI/40906564/0/0/0/99542e1cd79a4f92d1952313a9b0561a/96/af2681bc8a7e02997867910ebc05b5b0/40906564.JPG", "caption": "" }, "displayorder": 1, "url": "//cdnparap30.paragonrels.com/ParagonImages/Property/P3/MAXEBRDI/40906564/1/0/0/3e8191d26ad9f3d8b30ff7b6210e2be2/96/af2681bc8a7e02997867910ebc05b5b0/40906564-1.JPG", "caption": "" }, "displayorder": 2, "url": "//cdnparap30.paragonrels.com/ParagonImages/Property/P3/MAXEBRDI/40906564/2/0/0/4a8018ab3cc219c49cdb76ef960436ee/96/af2681bc8a7e02997867910ebc05b5b0/40906564-2.JPG", "caption": "" }, "displayorder": 3, "url": "//cdnparap30.paragonrels.com/ParagonImages/Property/P3/MAXEBRDI/40906564/3/0/0/cbfdd7a21a1ce5238936defa352c0dca/96/af2681bc8a7e02997867910ebc05b5b0/40906564-3.JPG", "caption": "" }, "displayorder": 4, "url": "//cdnparap30.paragonrels.com/ParagonImages/Property/P3/MAXEBRDI/40906564/4/0/0/fcddbcc9c443865cfa2b904181f68631/96/af2681bc8a7e02997867910ebc05b5b0/40906564-4.JPG", "caption": "" }, "displayorder": 5, "url": "//cdnparap30.paragonrels.com/ParagonImages/Property/P3/MAXEBRDI/40906564/5/0/0/3f1273a9786d39cc39dd8abfb63c7fb3/96/af2681bc8a7e02997867910ebc05b5b0/40906564-5.JPG", "caption": "" }, "displayorder": 6, "url": "//cdnparap30.paragonrels.com/ParagonImages/Property/P3/MAXEBRDI/40906564/6/0/0/93bb164186041f827a71b1fcde5b3afa/96/af2681bc8a7e02997867910ebc05b5b0/40906564-6.JPG", "caption": "" }, "displayorder": 7, "url": "//cdnparap30.paragonrels.com/ParagonImages/Property/P3/MAXEBRDI/40906564/7/0/0/c0ba8cd02c845572ec59a679cbc63bc0/96/af2681bc8a7e02997867910ebc05b5b0/40906564-7.JPG", "caption": "" }, "displayorder": 8, "url": "//cdnparap30.paragonrels.com/ParagonImages/Property/P3/MAXEBRDI/40906564/8/0/0/c1e4d5fac483489c67755a0bf40d41d9/96/af2681bc8a7e02997867910ebc05b5b0/40906564-8.JPG", "caption": "" }, "displayorder": 9, "url": "//cdnparap30.paragonrels.com/ParagonImages/Property/P3/MAXEBRDI/40906564/9/0/0/ba230a1629a71a07970825d739d88a20/96/af2681bc8a7e02997867910ebc05b5b0/40906564-9.JPG", "caption": "" }, "displayorder": 10, "url": "//cdnparap30.paragonrels.com/ParagonImages/Property/P3/MAXEBRDI/40906564/10/0/0/37db9065f242b32d600028a66cf99789/96/af2681bc8a7e02997867910ebc05b5b0/40906564-10.JPG", "caption": "" }, "displayorder": 11, "url": "//cdnparap30.paragonrels.com/ParagonImages/Property/P3/MAXEBRDI/40906564/11/0/0/a58a826fbbb856a21f9d276d4a21f67c/96/af2681bc8a7e02997867910ebc05b5b0/40906564-11.JPG", "caption": "" }, "displayorder": 12, "url": "//cdnparap30.paragonrels.com/ParagonImages/Property/P3/MAXEBRDI/40906564/12/0/0/d3b906841eefc88f63bab69c31262671/96/af2681bc8a7e02997867910ebc05b5b0/40906564-12.JPG", "caption": "" }, "displayorder": 13, "url": "//cdnparap30.paragonrels.com/ParagonImages/Property/P3/MAXEBRDI/40906564/13/0/0/db02fe39e2be348143e4352aa6e282b2/96/af2681bc8a7e02997867910ebc05b5b0/40906564-13.JPG", "caption": "" }, "displayorder": 14, "url": "//cdnparap30.paragonrels.com/ParagonImages/Property/P3/MAXEBRDI/40906564/14/0/0/6159c9b2f70de8310e2052a7d85461ed/96/af2681bc8a7e02997867910ebc05b5b0/40906564-14.JPG", "caption": "" }, "displayorder": 15, "url": "//cdnparap30.paragonrels.com/ParagonImages/Property/P3/MAXEBRDI/40906564/15/0/0/7975252365d684fec5c753d6c1239d13/96/af2681bc8a7e02997867910ebc05b5b0/40906564-15.JPG", "caption": "" }, "displayorder": 16, "url": "//cdnparap30.paragonrels.com/ParagonImages/Property/P3/MAXEBRDI/40906564/16/0/0/df3cf4638eb545922f78d0bf162778ed/96/af2681bc8a7e02997867910ebc05b5b0/40906564-16.JPG", "caption": "" }, "displayorder": 17, "url": "//cdnparap30.paragonrels.com/ParagonImages/Property/P3/MAXEBRDI/40906564/17/0/0/aa7178f1656cb0c3d9e88b5fef2320ac/96/af2681bc8a7e02997867910ebc05b5b0/40906564-17.JPG", "caption": "" }, "displayorder": 18, "url": "//cdnparap30.paragonrels.com/ParagonImages/Property/P3/MAXEBRDI/40906564/18/0/0/fb3106f50a7b27a22010ac0320eed20f/96/af2681bc8a7e02997867910ebc05b5b0/40906564-18.JPG", "caption": "" }, "displayorder": 19, "url": "//cdnparap30.paragonrels.com/ParagonImages/Property/P3/MAXEBRDI/40906564/19/0/0/725521ac3ff30b315d087612fa7c27c0/96/af2681bc8a7e02997867910ebc05b5b0/40906564-19.JPG", "caption": "" }, "displayorder": 20, "url": "//cdnparap30.paragonrels.com/ParagonImages/Property/P3/MAXEBRDI/40906564/20/0/0/5ecc60c5ca5a254319c3e860cb10af1e/96/af2681bc8a7e02997867910ebc05b5b0/40906564-20.JPG", "caption": "" }, "displayorder": 21, "url": "//cdnparap30.paragonrels.com/ParagonImages/Property/P3/MAXEBRDI/40906564/21/0/0/8aae7b4edfc06d7ffb46267a06f09dfe/96/af2681bc8a7e02997867910ebc05b5b0/40906564-21.JPG", "caption": "" }, "displayorder": 22, "url": "//cdnparap30.paragonrels.com/ParagonImages/Property/P3/MAXEBRDI/40906564/22/0/0/d885a9d8a634e01120cb21ae00fe5393/96/af2681bc8a7e02997867910ebc05b5b0/40906564-22.JPG", "caption": "" }, "displayorder": 23, "url": "//cdnparap30.paragonrels.com/ParagonImages/Property/P3/MAXEBRDI/40906564/23/0/0/710c464fa97d5d1d15407452d7a999e2/96/af2681bc8a7e02997867910ebc05b5b0/40906564-23.JPG", "caption": "" }, "displayorder": 24, "url": "//cdnparap30.paragonrels.com/ParagonImages/Property/P3/MAXEBRDI/40906564/24/0/0/c3701e4007f7b493178388f23ed78a37/96/af2681bc8a7e02997867910ebc05b5b0/40906564-24.JPG", "caption": "" }, "displayorder": 25, "url": "//cdnparap30.paragonrels.com/ParagonImages/Property/P3/MAXEBRDI/40906564/25/0/0/18ca8c5310b0de63edc259587af9057e/96/af2681bc8a7e02997867910ebc05b5b0/40906564-25.JPG", "caption": "" }, "displayorder": 26, "url": "//cdnparap30.paragonrels.com/ParagonImages/Property/P3/MAXEBRDI/40906564/26/0/0/5a5d3a27569c66560bb907d1e5bde6d1/96/af2681bc8a7e02997867910ebc05b5b0/40906564-26.JPG", "caption": "" }, "displayorder": 27, "url": "//cdnparap30.paragonrels.com/ParagonImages/Property/P3/MAXEBRDI/40906564/27/0/0/0108c126ab321e3478957c40839d3d3b/96/af2681bc8a7e02997867910ebc05b5b0/40906564-27.JPG", "caption": "" }, "displayorder": 28, "url": "//cdnparap30.paragonrels.com/ParagonImages/Property/P3/MAXEBRDI/40906564/28/0/0/f526b8bfff119e7160e2dde0bab68d7a/96/af2681bc8a7e02997867910ebc05b5b0/40906564-28.JPG", "caption": "" }, "displayorder": 29, "url": "//cdnparap30.paragonrels.com/ParagonImages/Property/P3/MAXEBRDI/40906564/29/0/0/80a3f6f39291dc8f5938e4e6a880fcfb/96/af2681bc8a7e02997867910ebc05b5b0/40906564-29.JPG", "caption": "" }, "displayorder": 30, "url": "//cdnparap30.paragonrels.com/ParagonImages/Property/P3/MAXEBRDI/40906564/30/0/0/1aeb15947f2ff22bb4d5abbf9916da28/96/af2681bc8a7e02997867910ebc05b5b0/40906564-30.JPG", "caption": "" }, "displayorder": 31, "url": "//cdnparap30.paragonrels.com/ParagonImages/Property/P3/MAXEBRDI/40906564/31/0/0/6eee01d4791327a68f145a06f42cc62b/96/af2681bc8a7e02997867910ebc05b5b0/40906564-31.JPG", "caption": "" }, "displayorder": 32, "url": "//cdnparap30.paragonrels.com/ParagonImages/Property/P3/MAXEBRDI/40906564/32/0/0/f87e755a396572a2db6a6ee00b7b8bbe/96/af2681bc8a7e02997867910ebc05b5b0/40906564-32.JPG", "caption": "" }, "displayorder": 33, "url": "//cdnparap30.paragonrels.com/ParagonImages/Property/P3/MAXEBRDI/40906564/33/0/0/76471e8469a0b3d95aa1ec79f0fac3e9/96/af2681bc8a7e02997867910ebc05b5b0/40906564-33.JPG", "caption": "" }, "displayorder": 34, "url": "//cdnparap30.paragonrels.com/ParagonImages/Property/P3/MAXEBRDI/40906564/34/0/0/93fcbc69a9aca28e1eba0000faea22c8/96/af2681bc8a7e02997867910ebc05b5b0/40906564-34.JPG", "caption": "" }, "displayorder": 35, "url": "//cdnparap30.paragonrels.com/ParagonImages/Property/P3/MAXEBRDI/40906564/35/0/0/54d26676a85e371b86b9662bcf8e7e06/96/af2681bc8a7e02997867910ebc05b5b0/40906564-35.JPG", "caption": "" }, "displayorder": 36, "url": "//cdnparap30.paragonrels.com/ParagonImages/Property/P3/MAXEBRDI/40906564/36/0/0/b67260da8ce6738684a1d941be144bc6/96/af2681bc8a7e02997867910ebc05b5b0/40906564-36.JPG", "caption": "" }, "displayorder": 37, "url": "//cdnparap30.paragonrels.com/ParagonImages/Property/P3/MAXEBRDI/40906564/37/0/0/80cf3acac9255a2dfa10b12ce935e1df/96/af2681bc8a7e02997867910ebc05b5b0/40906564-37.JPG", "caption": "" }, "displayorder": 38, "url": "//cdnparap30.paragonrels.com/ParagonImages/Property/P3/MAXEBRDI/40906564/38/0/0/633b56b64d8345ccbcbc80d002efac34/96/af2681bc8a7e02997867910ebc05b5b0/40906564-38.JPG", "caption": "" } ], "agent": { "name": "ANDREW PITARRE", "phone": "415-342-9950", "email": "apitarre@gmail.com" }, "broker": { "name": "COMPASS", "phone": "", "email": "" } }; ]]>
4519 Howe St
OAKLAND, CA 94611

Click here for map
Residential Home
$1,995,000
2,507 Sq Feet
4 Bedrooms
3 Bathrooms
1 Partial Bath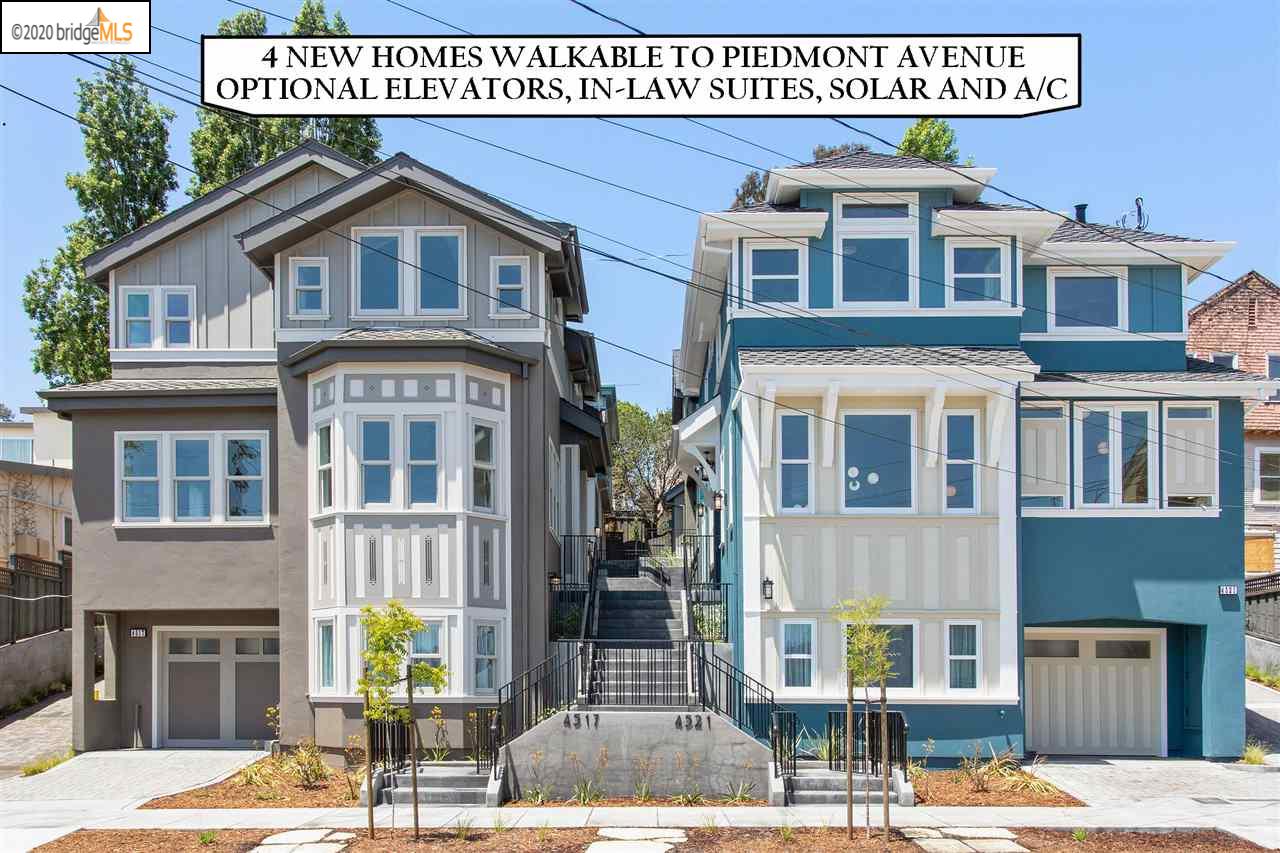 Details:
Lot Sq Feet:
2,624
Fireplaces:
1
HOA?
No
Bank Owned?
No
Status:
Pending
Remarks:
New Construction Walkable to Piedmont Ave! Incredible location. Adjacent to shops and restaurants AND over 29 acres of open space AND commuter friendly. 4 new homes just released at Oakmont off Piedmont. 3-4 bedroom homes 2400-3200 SF. Each home has been thoughtfully designed, sourced & constructed by established local development team. Planned for comfort w/ optional air conditioning, solar panels, car chargers, elevators & in-law suites. Open floor plans w/ expansive folding doors lead out to the lovely private patio. Exquisite details in each unique home include real hardwood flooring throughout, designer chef's kitchen w/ commercial range & appliance package, custom stair balustrades & wood moldings, custom tile details, ample closet & storage. 2 car dedicated parking & garage. Private yards w/ professionally designed landscaping that will gracefully mature. See the difference that quality construction / materials, & thoughtful design can offer.
There are currently no open houses for this property. Please contact
ANDREW PITARRE
to schedule an appointment.