<![CDATA[ var dwellicious_data = { "address": "2301 Pine Knoll Dr #4", "city": "WALNUT CREEK", "state": "CA", "zip": "94595", "zip4": "", "area": "", "subdivision": "", "county": "", "price": "579000", "beds": "2", "baths": "2", "sqft": "1158", "lotsize": "0", "yearbuilt": "1965-01-01", "proptype": "Residential", "mlsnum": "40904157", "active": false, "remarks": "Entertain friends in this stunning Sonoma model.  www.http://www.2301pineknoll.com Enjoy morning coffee in the tranquil sunroom. Totally remodeled, this versatile living space has a warm & inviting ambiance. Unique architectural design - open concept - Chef's Kitchen with an extra-large island, gourmet GE appliances, and outstanding Custom Cabinets for lots of storage.  The Fireplace, Old World sheetrock finish, recessed lighting, crown molding, designer paint, plank flooring, and dual pane windows show the thoughtfulness put into this design.    A complete remodel with Two Full Bathrooms – walk-in shower with handheld spray and large seat. The Washer and Dryer are found in their own designated closet.   An easy walk to Hillside & Gateway Clubhouse makes this a real gem of a property! Tour Home at this website: https://my.matterport.com/show/?m=MMAgRinXt75", "photos": [ { "displayorder": 0, "url": "//cdnparap30.paragonrels.com/ParagonImages/Property/P3/MAXEBRDI/40904157/0/0/0/134eb31ce391eff535562ebab6e061cc/93/edf85039dc8742d22bedef22d486c7e0/40904157.JPG", "caption": "" }, "displayorder": 1, "url": "//cdnparap30.paragonrels.com/ParagonImages/Property/P3/MAXEBRDI/40904157/1/0/0/d56bc4c095b32c0e71c2fdcd8c3aa1f9/93/edf85039dc8742d22bedef22d486c7e0/40904157-1.JPG", "caption": "" }, "displayorder": 2, "url": "//cdnparap30.paragonrels.com/ParagonImages/Property/P3/MAXEBRDI/40904157/2/0/0/72d0d23a450c958bc0c3e3386ccc932a/93/edf85039dc8742d22bedef22d486c7e0/40904157-2.JPG", "caption": "" }, "displayorder": 3, "url": "//cdnparap30.paragonrels.com/ParagonImages/Property/P3/MAXEBRDI/40904157/3/0/0/fdb4402d1f13688eeddbd4d69ea3db3c/93/edf85039dc8742d22bedef22d486c7e0/40904157-3.JPG", "caption": "" }, "displayorder": 4, "url": "//cdnparap30.paragonrels.com/ParagonImages/Property/P3/MAXEBRDI/40904157/4/0/0/af3bbb4af314405b2e7c7ae32e708b62/93/edf85039dc8742d22bedef22d486c7e0/40904157-4.JPG", "caption": "" }, "displayorder": 5, "url": "//cdnparap30.paragonrels.com/ParagonImages/Property/P3/MAXEBRDI/40904157/5/0/0/a2ff876ae60ac2dc58f9e80a5fd88017/93/edf85039dc8742d22bedef22d486c7e0/40904157-5.JPG", "caption": "" }, "displayorder": 6, "url": "//cdnparap30.paragonrels.com/ParagonImages/Property/P3/MAXEBRDI/40904157/6/0/0/dc713066a66d2ea2ecd18f7dd0814dd0/93/edf85039dc8742d22bedef22d486c7e0/40904157-6.JPG", "caption": "" }, "displayorder": 7, "url": "//cdnparap30.paragonrels.com/ParagonImages/Property/P3/MAXEBRDI/40904157/7/0/0/47c320b1790b480b6377eda3fd435952/93/edf85039dc8742d22bedef22d486c7e0/40904157-7.JPG", "caption": "" }, "displayorder": 8, "url": "//cdnparap30.paragonrels.com/ParagonImages/Property/P3/MAXEBRDI/40904157/8/0/0/933eafe9520a1fc1ae55a0dabff2d1f5/93/edf85039dc8742d22bedef22d486c7e0/40904157-8.JPG", "caption": "" }, "displayorder": 9, "url": "//cdnparap30.paragonrels.com/ParagonImages/Property/P3/MAXEBRDI/40904157/9/0/0/d62fd53cdd30888a829ad6d94c2536ac/93/edf85039dc8742d22bedef22d486c7e0/40904157-9.JPG", "caption": "" }, "displayorder": 10, "url": "//cdnparap30.paragonrels.com/ParagonImages/Property/P3/MAXEBRDI/40904157/10/0/0/c4912eb1b2d0a4371556653e03d06fa4/93/edf85039dc8742d22bedef22d486c7e0/40904157-10.JPG", "caption": "" }, "displayorder": 11, "url": "//cdnparap30.paragonrels.com/ParagonImages/Property/P3/MAXEBRDI/40904157/11/0/0/b5175dbebb43ebbdace2b6d6b076ba71/93/edf85039dc8742d22bedef22d486c7e0/40904157-11.JPG", "caption": "" }, "displayorder": 12, "url": "//cdnparap30.paragonrels.com/ParagonImages/Property/P3/MAXEBRDI/40904157/12/0/0/1ea669f93aeb181939212e2bdfc63dd8/93/edf85039dc8742d22bedef22d486c7e0/40904157-12.JPG", "caption": "" }, "displayorder": 13, "url": "//cdnparap30.paragonrels.com/ParagonImages/Property/P3/MAXEBRDI/40904157/13/0/0/f8efe7856df2796d45dab4e7d1b40673/93/edf85039dc8742d22bedef22d486c7e0/40904157-13.JPG", "caption": "" }, "displayorder": 14, "url": "//cdnparap30.paragonrels.com/ParagonImages/Property/P3/MAXEBRDI/40904157/14/0/0/ab258ea4f822a48e3a4be3bdf8fbeab2/93/edf85039dc8742d22bedef22d486c7e0/40904157-14.JPG", "caption": "" }, "displayorder": 15, "url": "//cdnparap30.paragonrels.com/ParagonImages/Property/P3/MAXEBRDI/40904157/15/0/0/3b64b1ec82dd3a54440e11aadb4e5e6e/93/edf85039dc8742d22bedef22d486c7e0/40904157-15.JPG", "caption": "" }, "displayorder": 16, "url": "//cdnparap30.paragonrels.com/ParagonImages/Property/P3/MAXEBRDI/40904157/16/0/0/502601fce5c191607ebbf9bdd0043abc/93/edf85039dc8742d22bedef22d486c7e0/40904157-16.JPG", "caption": "" }, "displayorder": 17, "url": "//cdnparap30.paragonrels.com/ParagonImages/Property/P3/MAXEBRDI/40904157/17/0/0/8151360ab44563d8bb9279c945d0a095/93/edf85039dc8742d22bedef22d486c7e0/40904157-17.JPG", "caption": "" }, "displayorder": 18, "url": "//cdnparap30.paragonrels.com/ParagonImages/Property/P3/MAXEBRDI/40904157/18/0/0/ba405e8102079b232e77fd1247fa7654/93/edf85039dc8742d22bedef22d486c7e0/40904157-18.JPG", "caption": "" }, "displayorder": 19, "url": "//cdnparap30.paragonrels.com/ParagonImages/Property/P3/MAXEBRDI/40904157/19/0/0/bbfddc7256278a24822c49705ac8a3d0/93/edf85039dc8742d22bedef22d486c7e0/40904157-19.JPG", "caption": "" }, "displayorder": 20, "url": "//cdnparap30.paragonrels.com/ParagonImages/Property/P3/MAXEBRDI/40904157/20/0/0/412501506233234a29c36b149457926d/93/edf85039dc8742d22bedef22d486c7e0/40904157-20.JPG", "caption": "" }, "displayorder": 21, "url": "//cdnparap30.paragonrels.com/ParagonImages/Property/P3/MAXEBRDI/40904157/21/0/0/26e0934f94f06f18b3b7c3a0bf57a602/93/edf85039dc8742d22bedef22d486c7e0/40904157-21.JPG", "caption": "" }, "displayorder": 22, "url": "//cdnparap30.paragonrels.com/ParagonImages/Property/P3/MAXEBRDI/40904157/22/0/0/a4cb3faecc1de3e65e0756d5210a2f73/93/edf85039dc8742d22bedef22d486c7e0/40904157-22.JPG", "caption": "" }, "displayorder": 23, "url": "//cdnparap30.paragonrels.com/ParagonImages/Property/P3/MAXEBRDI/40904157/23/0/0/1d1b28280febedda24a50ebb12d5cde5/93/edf85039dc8742d22bedef22d486c7e0/40904157-23.JPG", "caption": "" }, "displayorder": 24, "url": "//cdnparap30.paragonrels.com/ParagonImages/Property/P3/MAXEBRDI/40904157/24/0/0/8f85815a9e0665d052a7bd1c8bae6b40/93/edf85039dc8742d22bedef22d486c7e0/40904157-24.JPG", "caption": "" }, "displayorder": 25, "url": "//cdnparap30.paragonrels.com/ParagonImages/Property/P3/MAXEBRDI/40904157/25/0/0/af018a72983ab880443ddb7226a917e2/93/edf85039dc8742d22bedef22d486c7e0/40904157-25.JPG", "caption": "" }, "displayorder": 26, "url": "//cdnparap30.paragonrels.com/ParagonImages/Property/P3/MAXEBRDI/40904157/26/0/0/fc58cb088b7945142751020e3f3ed770/93/edf85039dc8742d22bedef22d486c7e0/40904157-26.JPG", "caption": "" }, "displayorder": 27, "url": "//cdnparap30.paragonrels.com/ParagonImages/Property/P3/MAXEBRDI/40904157/27/0/0/923aad7cddb89d45dd216985b3d90699/93/edf85039dc8742d22bedef22d486c7e0/40904157-27.JPG", "caption": "" }, "displayorder": 28, "url": "//cdnparap30.paragonrels.com/ParagonImages/Property/P3/MAXEBRDI/40904157/28/0/0/fbabca0d056047c7fdb875c37e11fc93/93/edf85039dc8742d22bedef22d486c7e0/40904157-28.JPG", "caption": "" }, "displayorder": 29, "url": "//cdnparap30.paragonrels.com/ParagonImages/Property/P3/MAXEBRDI/40904157/29/0/0/02516e4a2cbe7aa4c54e4e73fb5db020/93/edf85039dc8742d22bedef22d486c7e0/40904157-29.JPG", "caption": "" }, "displayorder": 30, "url": "//cdnparap30.paragonrels.com/ParagonImages/Property/P3/MAXEBRDI/40904157/30/0/0/68969c249a1f96d344c11cb21a349d9f/93/edf85039dc8742d22bedef22d486c7e0/40904157-30.JPG", "caption": "" } ], "agent": { "name": "Sheryle Morgan", "phone": "925-2094798", "email": "sheryle.morgan@bhhsdrysdale.com" }, "broker": { "name": "BHHS Drysdale Properties", "phone": "", "email": "" } }; ]]>
2301 Pine Knoll Dr #4
WALNUT CREEK, CA 94595

Click here for map
Condo
$579,000
1,158 Sq Feet
2 Bedrooms
2 Bathrooms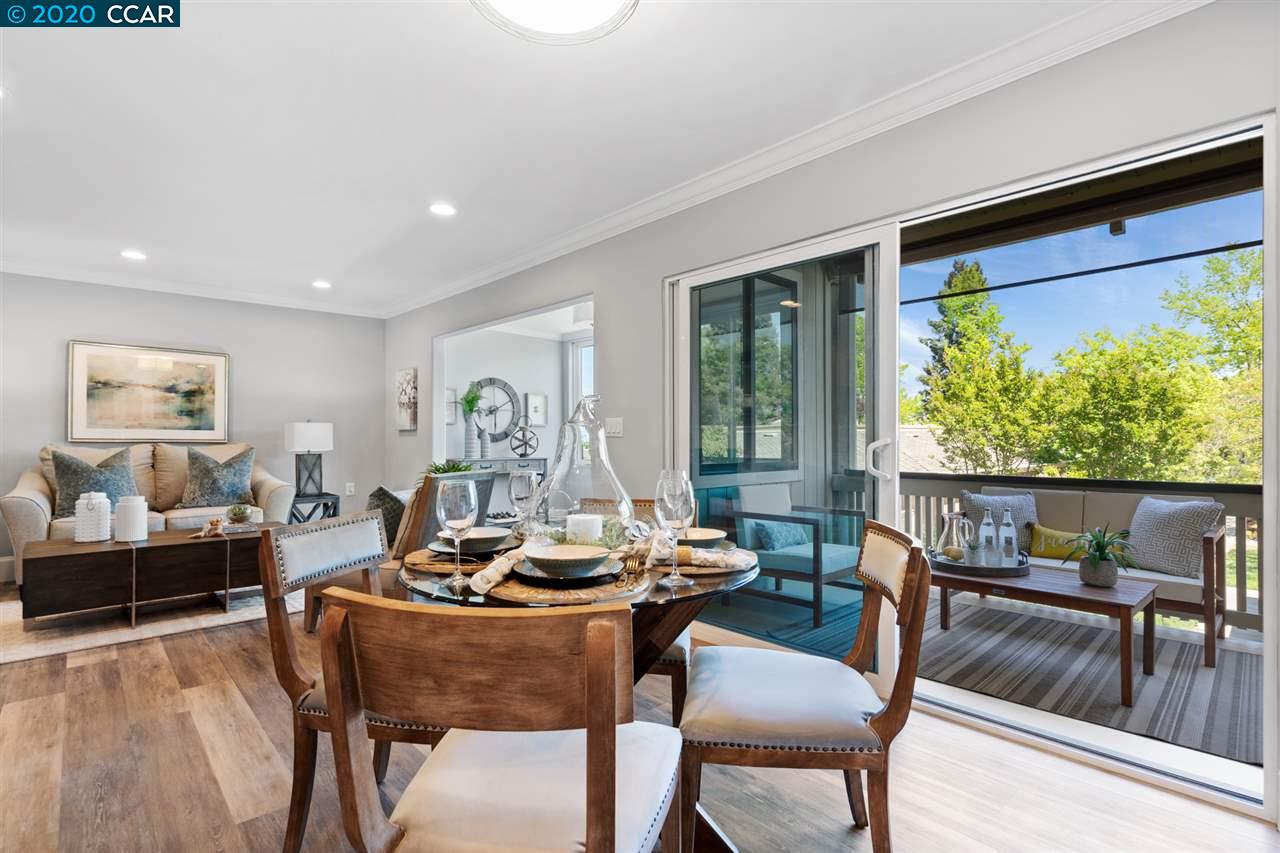 Details:
Lot Sq Feet:
0
Fireplaces:
0
HOA?
Yes
Bank Owned?
No
Status:
Pending
Remarks:
Entertain friends in this stunning Sonoma model.  www.http://www.2301pineknoll.com Enjoy morning coffee in the tranquil sunroom. Totally remodeled, this versatile living space has a warm & inviting ambiance. Unique architectural design - open concept - Chef's Kitchen with an extra-large island, gourmet GE appliances, and outstanding Custom Cabinets for lots of storage.  The Fireplace, Old World sheetrock finish, recessed lighting, crown molding, designer paint, plank flooring, and dual pane windows show the thoughtfulness put into this design.    A complete remodel with Two Full Bathrooms – walk-in shower with handheld spray and large seat. The Washer and Dryer are found in their own designated closet.   An easy walk to Hillside & Gateway Clubhouse makes this a real gem of a property! Tour Home at this website: https://my.matterport.com/show/?m=MMAgRinXt75
There are currently no open houses for this property. Please contact
Sheryle Morgan
to schedule an appointment.